10 Top-Rated Pool Villas of Amilla Maldives
The Maldives is world-famous for its beaches, crystal clear waters, and a take-it-easy mentality that provide the perfect setting for a honeymoon holiday. It is bursting with fantastic accommodation options, so it can be challenging to choose where to stay.
Amilla Maldives Resort and Residences is more luxurious than most of the resorts in the Maldives. So, if you're looking for the most luxurious pool villas, we can help. Here are our top-rated favorite Amilla Maldives pool villas that will make you want to move in and stay forever.
1. Treetop Pool Villa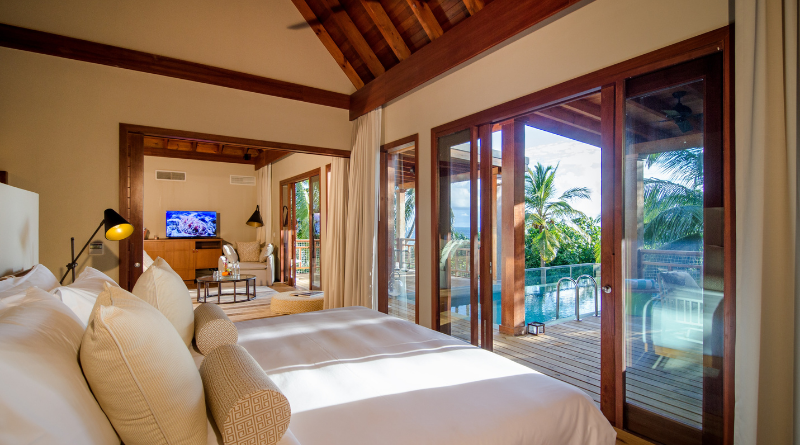 If you are a fan of jungle book or Tarzan and want to have a place right in the middle of trees. This option is best for you. 5 grand villas with each one covering a huge area of 250 sq meters offer a lifetime experience which you will cherish for the rest of your life. You can also book the treetop pool Villa as a bachelor or couple since they have one-bedroom and two-bedroom options.
2. Sunset Water Pool Villa
Another fantastic accommodation that Amilla offer is its sunset pool villas. These ten villas are beautifully designed to offer a panoramic view of infinite blue waters, providing an eye-soothing experience. From the calmness in the pool's floating bed to the scenery of a marvelous fiery sunset naturally painted in the sky every evening, these villas are just the perfect place to stay. It offers the greatest views of the sunset, so you can take it all in without missing a beat.
3. Reef Water Pool Villa
If you stay in one of Villa's reef water pool villas, you will be surrounded by stunning coral reefs daily. With a total area of 220 square meters, there are 23 similar villas. The view of the gorgeous reef from your bedroom will quickly lift your spirits. It's the ideal vacation spot because you'll be surrounded by nature's purest elements. Snorkeling enthusiasts will delight at this spot. These houses with swimming pools are perched directly over the surface of the vibrant coral reef. You can also receive exclusive use of a private beach with a water slide.
4. Lagoon Water Pool Villa (1 Bedroom)
The luxurious private pool villa in the Maldives is located on the lagoon's edge and features a freshwater pool for all-day relaxation. It has standard capacity for two guests and provides a spacious havens that welcome the embrace of the afternoon sun.
5. Lagoon Water Pool Villa (2 Bedrooms)
Maldives family Lagoon Water Pool Villa provides plenty of privacy and space. Swimming in the plunge pool or descending the private staircase to a lagoon are two options at your disposal. Enjoy a cup of tea or a hot chocolate on the terrace while you watch the sunrise, and then relax on the sun loungers while the youngsters play around in the deck-topped pool. A journey that the whole family will remember for a long time to come.
6. Beach Pool Villa (1 Bedroom)
Guests staying in a one-bedroom villa have direct access to the white sand beach and are surrounded by lush tropical landscaping. This profusion of natural beauty is excellent for seasoned travelers looking for a Maldivian beach home with a private pool. Floor-to-ceiling windows and doors open on three sides of the property, allowing the inside and the outside to become one. Plan a surprise for your loved ones by giving them the charm of the beach pool Villa. The breathtaking view comes with adjacent lagoons and is a treat for every sea lover.
7. Beach Pool Villa (2 Bedrooms)
The 2-bedroomm beach pool villa is a spacious villa for families with small children or groups of friends. Relax in your pool under the shaded shade of coconut trees at this beach pool villa in Maldives with large separate bathrooms for ultimate privacy and comfort. It also has a private garden with a view of the dunes and the ocean. For families and friends, the Two-bedroom Beach Pool Villa is the ideal location.
8. Beach Residences (4 Bedrooms)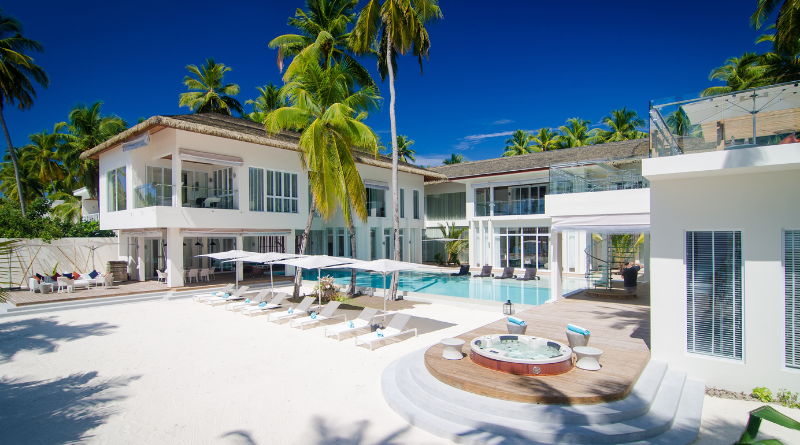 This residence consists of two twin and two king-size bedrooms, which deliver lashings of style. The statement bathtub in each of these six residences is decorated by Skyline of palm. The walk-in shower can provide you with a sprinkle of luxuriousness. This divine far away from the island paradise is considered the most beautiful and relaxing place across the globe.
9. The Amilla Villa Estate (6 Bedrooms)
The Amilla Villa Estate is the ultimate minimalist luxury and privacy, drawing both discerning travelers and A-list celebs in equal measure. Those looking for a unique vacation will fall in love with this magnificent six-bedroom home. Six-bedroom master suite with an Alfresco-style tropical courtyard is a beautifully constructed home with palms and a beachfront.
10. The Great Beach Residences (8 bedrooms)
Look no farther than this gorgeous beachfront property on a tropical island home to an abundance of marine life and stunning white-sand beaches. Are you planning an extensive group trip with several friends or families? Insisting on ultra-luxury living but with a breezy, laid-back vibe? You want complete privacy, but you also want to be close to world-class restaurants, diving, water and land sports, and relaxing spa treatments, don't you? There's a lot to like about the 8-bedroom Great Beach Villa Residence. The fabulous beach residence with eight bedrooms is perfect for family get-togethers or large outings. The rooms are ideal for teens and children.
Let us know which Pool Villa you found the most interesting in the comments.
Visit our YouTube channel to watch the Video: