Dhigufaru Island Resort Guide
A tour to Maldives reminds you of crystal-clear water and pristine beaches. If you have chosen Maldives for your dream vacation, you have started searching for a premium standard accommodation. Dhigufaru Island Resort is a popular destination where you can find a range of villa packages. Surrounded by unparalleled natural beauty, these villas will make your getaway memorable. Let us talk more about Dhigufaru Island Resort and its amenities.
---
WHY DHIGUFARU ISLAND RESORT ?
There are several reasons for choosing Dhigufaru Island Resort for your accommodation during your Maldives trip.
Clean and spacious room with modern amenities: Both beachfront and overwater rooms are available for visitors. Every room is equipped with a flat-screen TV, private bathroom, slippers, bathrooms, and so on. Some rooms also have special seating zones.
Spa and treatment rooms: You can reinvigorate your body and mind in the sauna and spa rooms. Private cabanas and the overall tranquility in the facilities will give you the best feeling.
An eco-friendly resort: If you are looking for rustic-chic villas in the Maldives, Dhigufaru Island Resort is the best destination. You can explore sunset cruises, pristine beaches, and nearby dive sites.
Get entertainment and several dining options: Indulge in water sports and host beach parties to get entertained. There are also multiple dining options for visitors.
---
HOW TO REACH THE RESORT
If you have chosen Dhigufaru Island Resort for luxurious stays, there are various ways to reach there.
If you have chosen Dhigufaru Island Resort for luxurious stays, there are various ways to reach there.
A seaplane from Male International Airport will help you reach the resort within 40 to 45 minutes. The resort has a reservation team to make your transfer arrangements. You need to pay the fee for the transfers separately.
By domestic airplane and speedboat
If you have chosen a domestic flight, you will arrive at Dharavandhoo Domestic Airport. You will then need to reserve a speedboat to reach your destination.
Based on your convenience, you can reach the resort.
---
ACCOMMODATIONS
As a high-end accommodation, Dhigufaru Island Resort provides a range of amenities that go beyond your anticipations. The most common amenities with every villa are:
King-size bed
Outdoor sun loungers
Veranda with coffee seats, table, and love seats
LED TV
Wi-Fi internet
Mini bar
Private safe
Air conditioner
Wardrobe
Chair and writing table
Dressing table
Stool
IDD Telephone
Mini bar
Beach Villa Boaku and Veli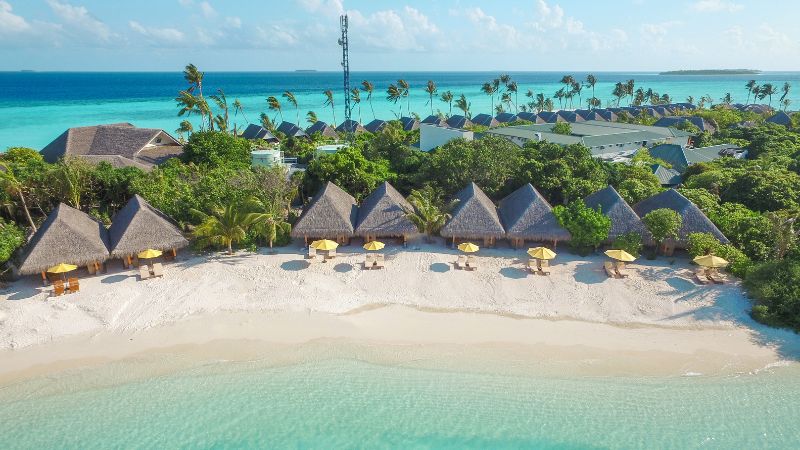 Rooms with beachfront provide you with a tranquil atmosphere. No matter what beach villa you have chosen, you will find an indoor bathroom, a semi-outdoor shower zone, and a vanity space.
Veli Pool Villa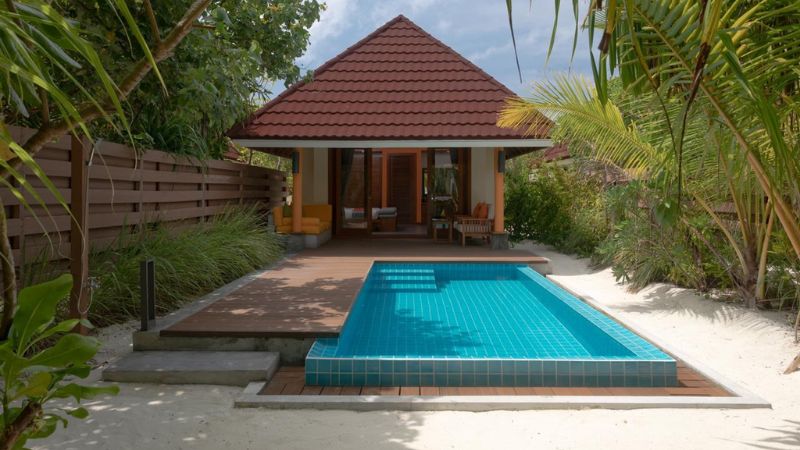 Veli Pool Villa is the right choice for those who love tropical ambiance. From comfy loungers to ambient lighting, everything is available.
Semi Water Villa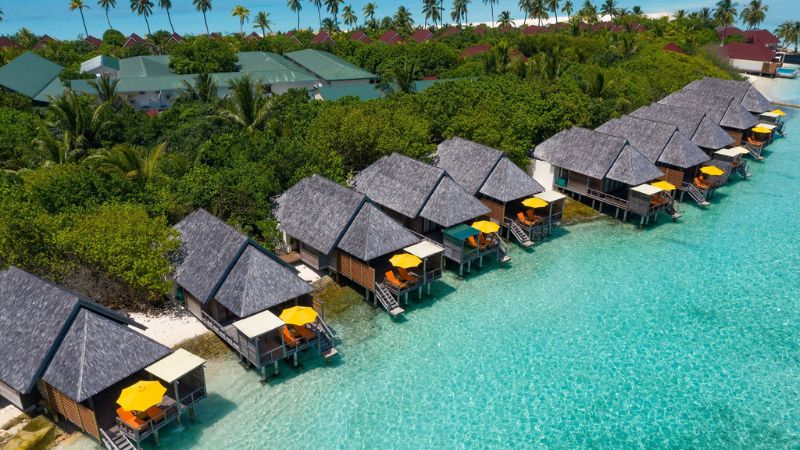 Start your day with a stunning view of the Dhigufaru lagoon. There are 10 semi-water villas in the resort.
Findhanfulhu Water Villa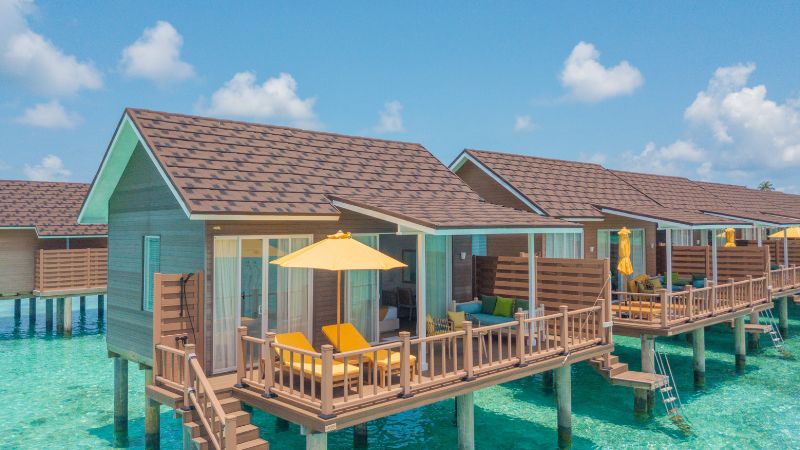 If you want to get the ultimate comfort during your stay, you choose from 20 Findhanfulhu Water Villas. It has a distinctive staircase that lets you reach the clear water of the lagoon.
Bondhanfulhu Pool Water Villa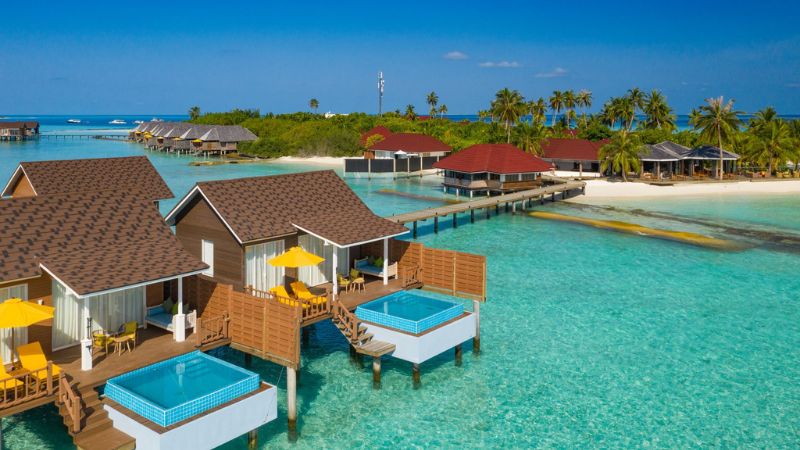 Bondhanfulhu Pool Water Villa lets you stay close to the lagoon. Like other rooms, this villa provides modern amenities. You can also take a bath in the pool water. While standing on the private deck, you will easily be able to glance at the lagoon and private deck.
2 Bedroom Family Villa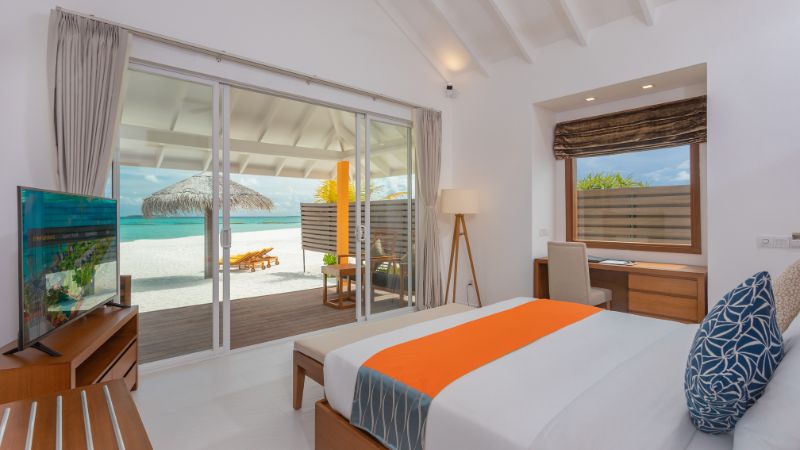 The extensive veranda and well-furnished bedrooms will help you unwind during your vacation. Every room faces towards the beach. When you wake up in the morning, you can soothe your eyes with a view of the lagoon.
Sangu Suite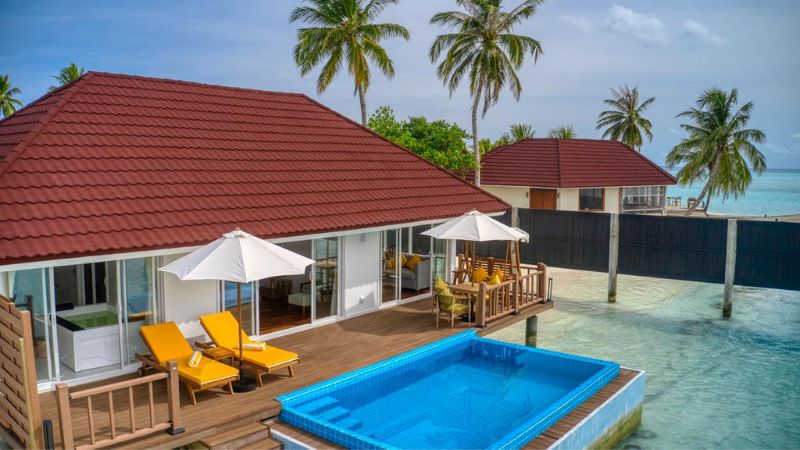 Luxury has reached the extreme level in the Sangu Suite. If you prefer an over-water villa, it is the perfect choice. All the amenities are within your reach.
---
DINE AND WINE
You can unwind with delectable cuisines and cool drinks. So, let us make you familiar with restaurants, cafes, and bars at the resort.
Dhandifulhu Restaurant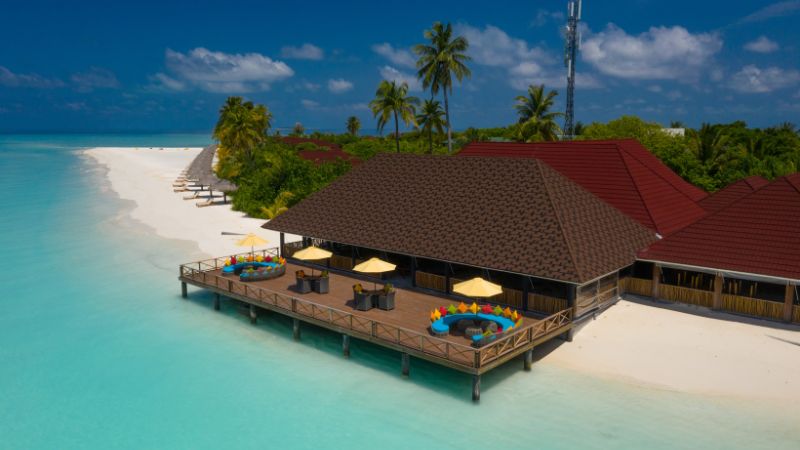 Dhandifulhu Restaurant is a buffet restaurant that overlooks the ocean. Try out different items on the menu to enjoy culinary flavors of different countries. However, you will never miss the local delicacies. Designed with simplicity and charm, the space signifies the best dining experience. While enjoying the view of the ocean, you can please your taste buds with flavorful dishes and beverages.
Thundi Pool Bar & Coffee Shop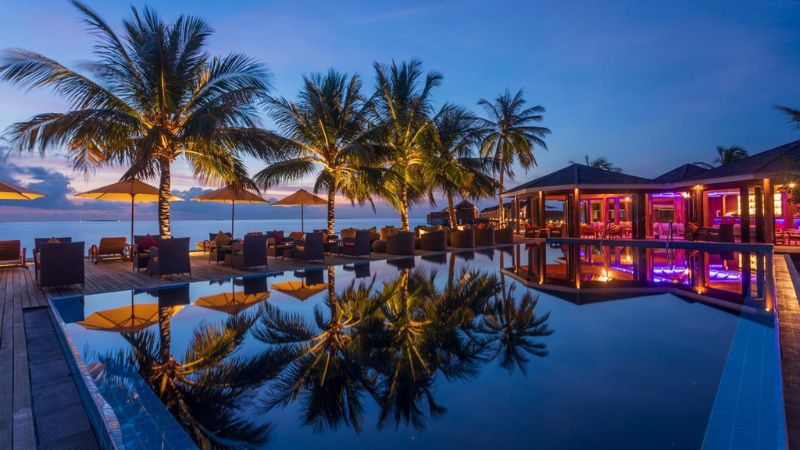 The pool bar is close to the lounge huts and lets you sip soft drinks, liquors, and juices. You may also feel warm by drinking a cup of coffee. While relaxing by the poolside and viewing the beautiful sunset, you will feel romantic. Whether you are with your family or friends, the pool area will get you entertained. The dedicated kitchen of the Thundi bar is another spot that draws your attention. The bistro-style cuisines include traditional, healthy dishes. What's more, you can order exotic cocktails or hot beverages when you are on the poolside.
Raagundi Bar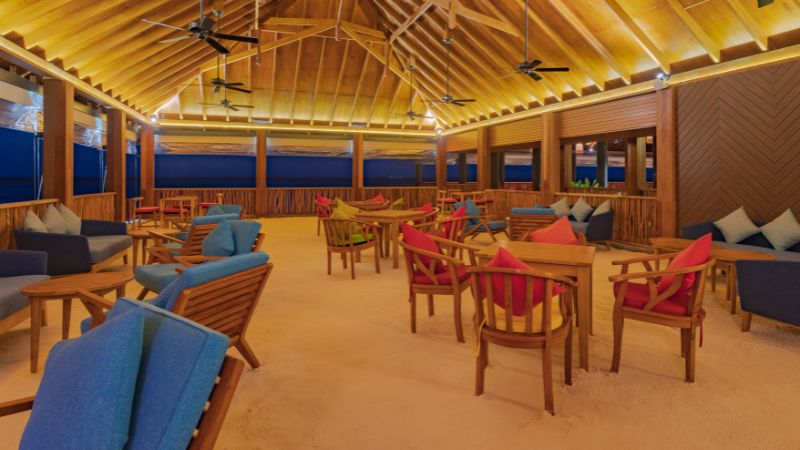 Raagundi is a paradise for alcoholic beverage lovers. Friendly bartenders are ready to fulfill your order. Whether you need cool champagne, whisky or a unique cocktail flavor, you cannot resist from visiting the Raagundi bar. The big collection of alcoholic beverages can draw the attention of visitors.
Athiri Specialty Restaurant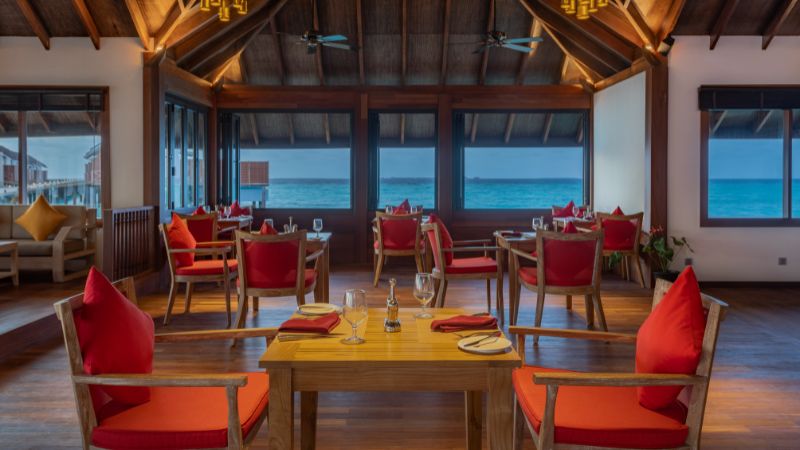 Athiri is best for seafood lover, but the restaurant is also known for Japanese cuisine. Built up on water, this restaurant gives you easy access to the beach. The beauty of the Indian Ocean will soothe your mind when you have your dishes.
In-Villa Dining
Dhigufaru Island Resort provides you with spacious villas that make your stay memorable. You can opt for in-villa dining service to enjoy your favorite dishes in the privacy of the room. The room service menu is available all 24 hours. Whether you have chosen an overwater or beachfront villa, you will get room service. Have your breakfast and champagne on the poolside. You will also get pleasure from a romantic dinner under the starry sky.
---
FACILITIES AND AMENITIES
The resort provides you with a variety of amenities to ensure the best experience.
Funa Spa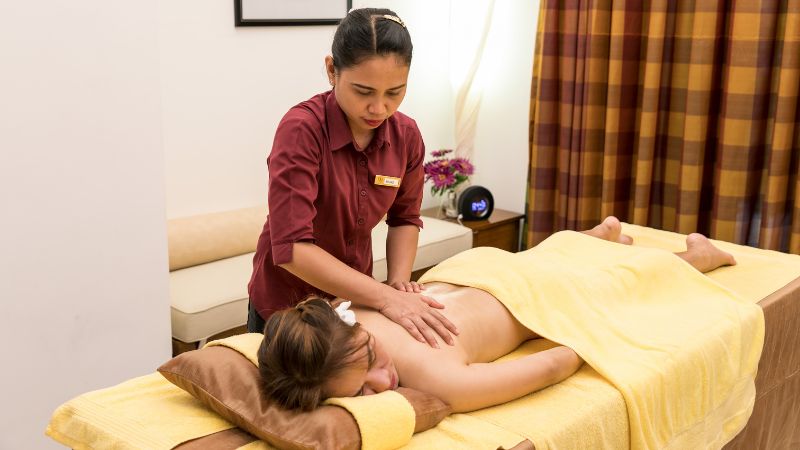 Maintain your well-being and health while staying in the resort. You can avail of various treatments at the Funa Spa Center.
Salon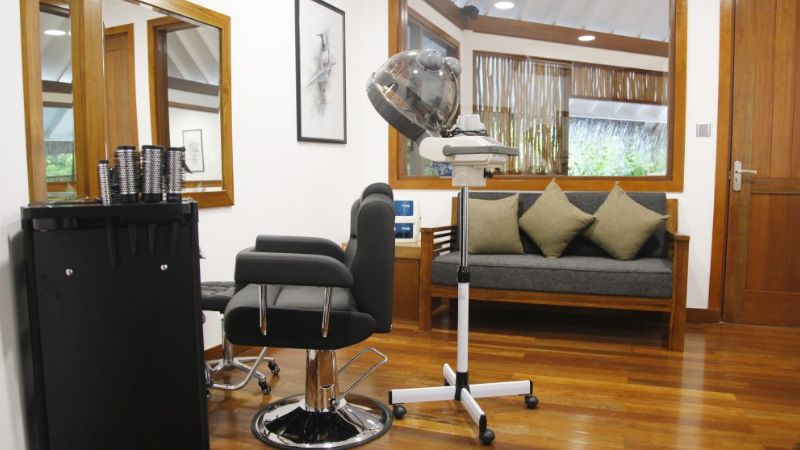 From facials to hairstyling, different services are available for many men and women. So, get the desired salon treatment and feel relaxed.
Sauna & Steam Room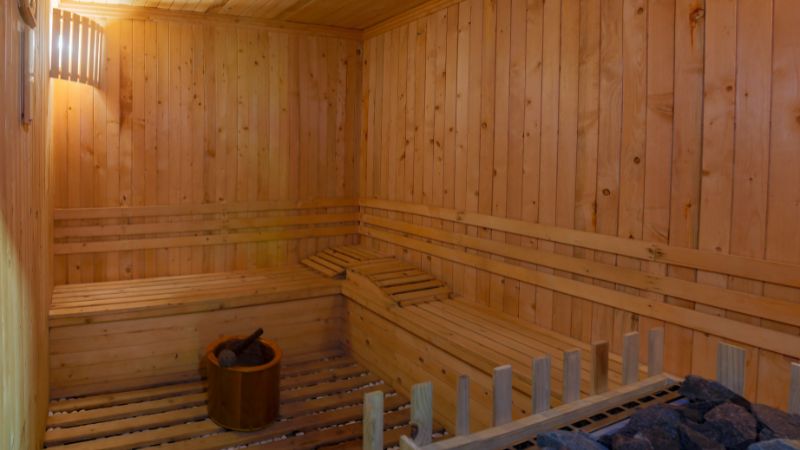 The spacious steam room and sauna will recharge your mind and body.
Baraveli Kids Club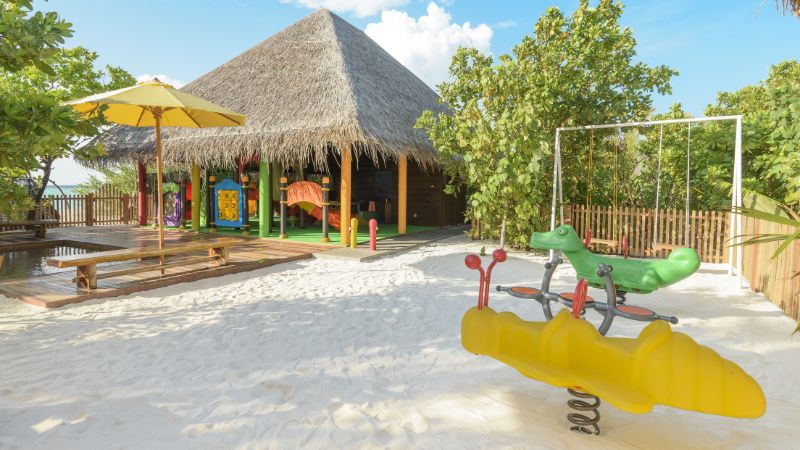 Your children will never be bored during their vacation in the Maldives. You can allow them to join the Kid's Club, where they will be able to learn about the diverse natural resources, flora, and fauna. It also has a library space equipped with books and toys.
Gym
The gym facility will help you maintain your health.
---
ACTIVITIES
Make your Maldives trip more wonderful by engaging in different adventurous activities
Sand Bank Picnic
Your picnic will be more romantic if you visit the virgin island or sand bank. The sound of waves on the beach will give you a pleasing sensation.
Local Island Visits
The secluded local islands have a very small population. But, a single visit to the island will let you learn more about the local lifestyle and culture.
Dolphin Watching
You can observe the marine ecosystem when you are on the Marine Bio Reserve. Baa Atoll will give you a view of marine animals, including whales, dolphins, and manta rays. Hire a guide for the scheduled excursions.
Fishing Excursions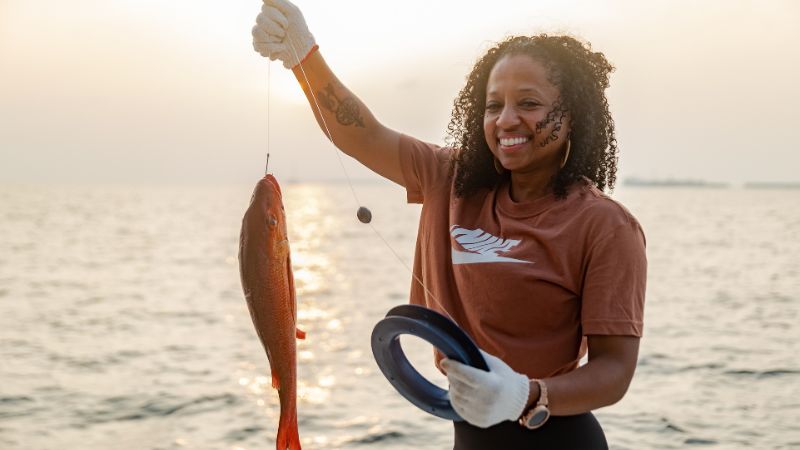 Dhigufaru Island Resort lets you take part in different fishing excursions, including-
Sunset Fishing- It is best for amateur and passionate fishermen who want to enjoy the trip with their families.
Game Fishing- Adventure lovers can take a small boat and get ready for a fishing trip. The specially designed boat is fully equipped, and you will be able to avail the essential fishing gear.
Local Fishing- Those who have learned line fishing techniques, local fishing is a great choice. You need to use live bait during this fishing excursion. Local fishing is ideal for large groups.
Diving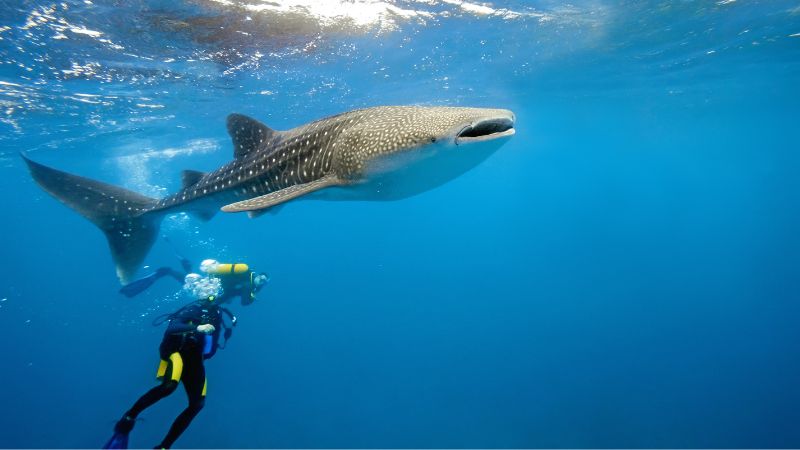 December to March is the best time for scuba divers. But, you can enjoy diving in the Maldives throughout the year.
If you want to be more adventurous, you can involve in snorkeling and other water sports, such as:
Canoe/ Kayak
Windsurf
Fun Tubes
Banana Riding
Water Skiing
Wake Board
Kite Surfing
Jet Ski
Hover Board
Catamaran Sailing
Stand-up Paddleboard
There are several other sources of entertainment, including:
Billiard table
Garlando
Dart
Volleyball
DJ
In-House Band Performance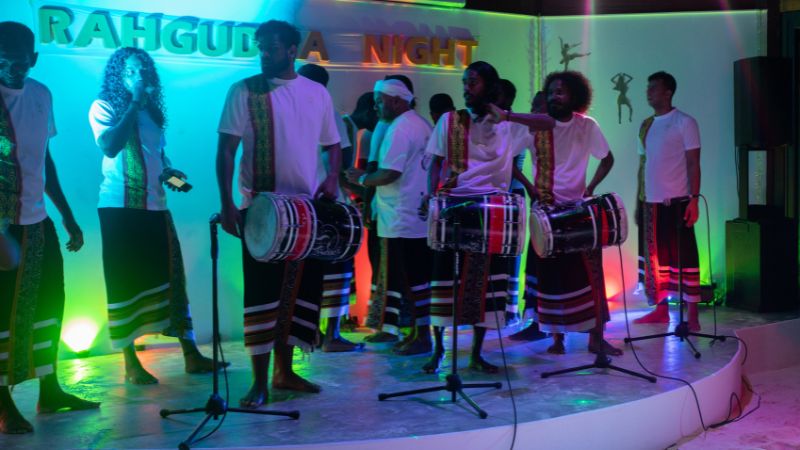 Cultural Shows are also arranged at the resort. For instance, a live music event and karaoke night will provide a source of amusement. The Live Music Band will show their amazing performance to entertain everyone.
---
CONCLUSION
You can now check the villa packages and other available amenities at the resort. Several vacationers have booked their rooms at Dhigufaru Island Resort to create some unforgettable memories in life.