Amid the sublime view of sparkling water, there lies the most experiential and luxurious resort of Maldives. This magnum resort is a perfect holiday destination for everyone who loves to indulge in the aura of calmness and relaxation.
The rich fauna and flora of this magnificent Villa can never dishearten you with its design, beauty, and hospitality. The relaxed accommodation and the comfort provided by the resort acknowledge the elite taste of its every guest.
The grandness of this resort lies in the close vicinity of the natural elements of the world.
1. Why Amilla Maldives
Even if you visit the Maldives multiple times, Amilla Resorts and Residences should be your first choice. You will find luxuriousness in every nook and corner. The warmth of watching Maldivian sunrise from a private large Infinity pool is the perfect holiday scenario. For adventure lovers, the snorkel guide is top-notch.
The Staff of this place makes all the difference. You can enjoy dining in the middle of the vast ocean bed. If you ever go for spa therapy, then Amilla should come first on a list. The ambiance is going to shed your stress from ordinary life. With a laid-back vibe, Amilla Resorts and Residences Maldives is going to give you a wonderfully blissful stay.
2. Way to Reach
Once you reach the Maldives, the Amilla resort and residences are 20 minutes away by domestic flight for 30 minutes by seaplane. After the flight journey, you will have to go on a 10-minute speedboat ride to reach the paradise of Amilla.
3. Accommodations
You can unwind some of the pool villas that are spacious and give you the most amazing experiences. Amilla Maldives Resort and Residences are more extensive than most Maldives resort villas.
The contemporary design provides a tropical retreat to travelers. You can never go wrong with the outdoor and indoor areas as they provide ultimate relaxation. You can immerse yourself in the elements of your choice provided by the resort.
The resort and the residence have vast areas of diversified rooms. You can choose your fancy Villa according to your preference and budget. Several choices are there, ranging from sunset water pool Villa to treetop pool Villa. There you will find every kind of villas that would suit your Elite taste.
You can now live your dream of utmost comfort from all kinds of hustle-bustle. Let's see some of their most famous villas.
3.1 Reef Water Pool Villa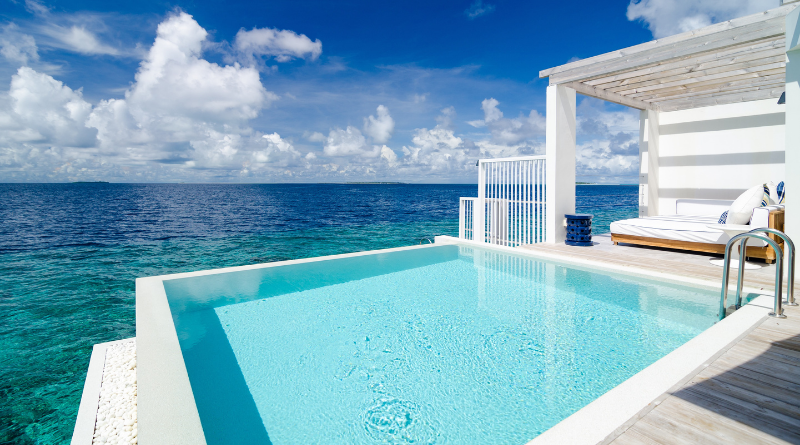 The beautiful corals will be an everyday treat to your eyes if you choose to stay in Villa's reef water pool. From the comforts of your bedroom, you can gaze out to the beautiful reef, which is sure to enchant your mood instantly—a perfect holiday destination where the freshness of nature will surround you.
If you are opting for snorkeling, it is a perfect destination for you. These water pool villas are suspended right over the viscosity of the kaleidoscopic reef. One will get private access to slide into the richness of the ocean.
3.2 Sunset Water Pool Villa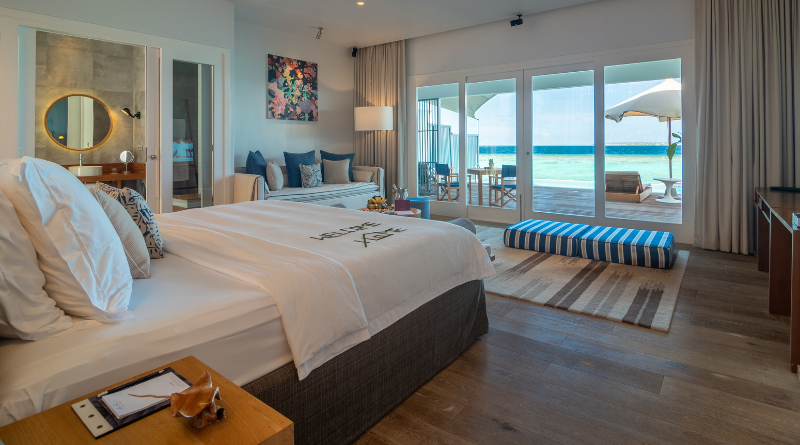 If you plan to go for this sunset water pool Villa, you will get a panorama of infinite blues that provides an eye-soothing experience. Enjoy your endless vacation in the Lagoon hammock. Get the vivacity of quiet life from the pool's floating bed, the scenery of a marvelous fiery sunset that is naturally painted in the sky every evening in the sunset water pool Villa. You can unleash your true escapism and drown in the chasm of blissfulness.
3.3 Lagoon Water Pool Villa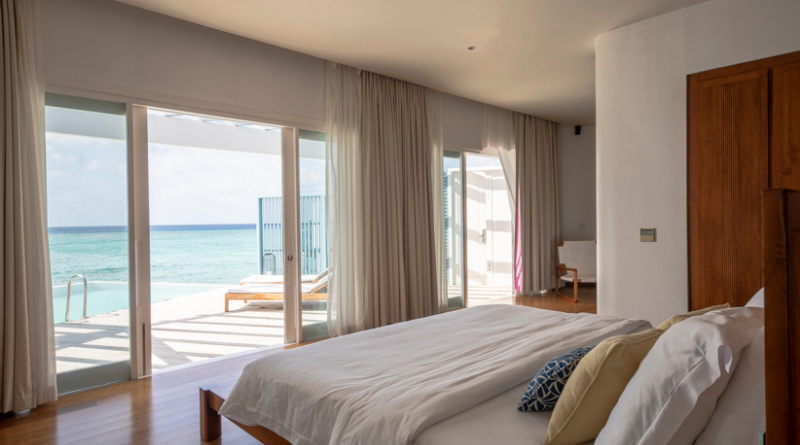 How peaceful it can be the gentle sound of carefree waves. Wake up to such gentleness and gaze into the sublime views. You can stroll on from the Villa deck and splash yourself against the Blue Water of the Lagoon. It is an ultimate Paradise for aqua lovers as you can experience the Lagoon on one side and the ocean with vivacious lives on the other.
Free yourself into the tranquillity of those bluish turquoise waters. It is an overwater Villa with one bedroom to two-bedroom options best for couples as well as bachelors.
3.4 Treetop Pool Villa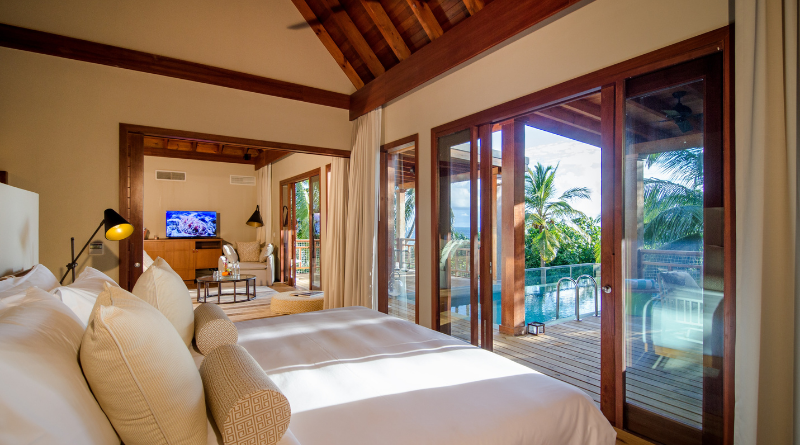 Now fulfill your fantasies like Jane and Tarzan in the highest treetop pool Villa. You will get to glide through the glass water slide that is suspended over the treetop. An adventure-soaked stay is guaranteed in our treetop pool Villa. After a pathway of 20 meters, you can discover a secret path to the white sand beach area. You can also book the treetop pool Villa as a bachelor or couple since they have one-bedroom and two-bedroom options.
3.5 Beach Pool Villa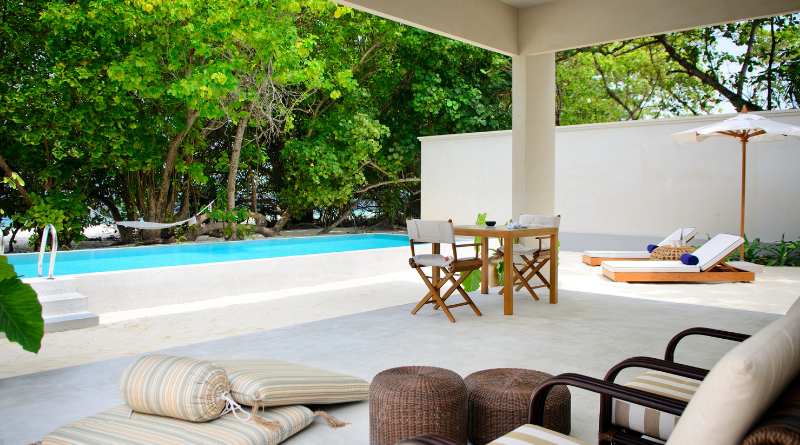 Plan a surprise for your loved ones by giving them the charm of the beach pool Villa. The breathtaking view comes with adjacent lagoons and is a treat for every sea lover. Drown into the coziness of the private sun loungers wild relaxing on the cushioned day beds.
There are two types of beach pool villas.
3.6 One Bedroom Beach Pool Villa and 2 Bedroom Beach Pool Villa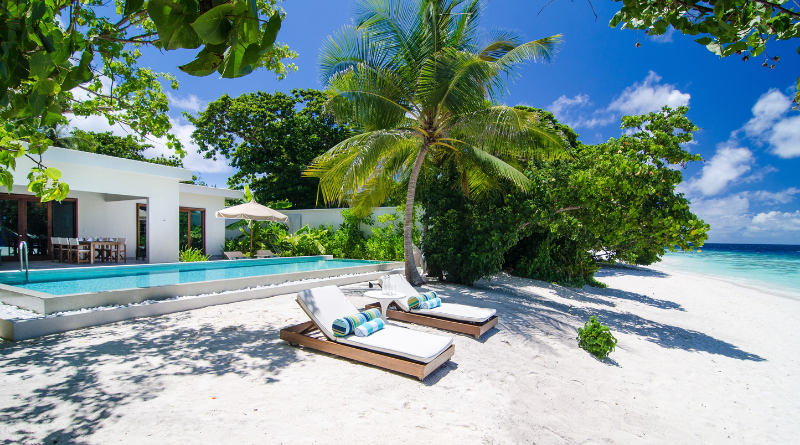 At the heart of the ultra-modern and spacious residence, you can find a two-bedroom beach pool Villa. Perfect for honeymoon couples. The deck ends in a swimming pool from where you can see the tight cluster of gardens.
Apart from that, you have the option of a one-bedroom beach pool Villa where you can evaporate all your stress of work and enjoy the enormous sea view. While you sit on the swimming pool of your Villa, the colossal open side lounge provides you with the convenience of dining, enjoying the massive look of the vast ocean.
3.7 Beach Residences – 4 Bedrooms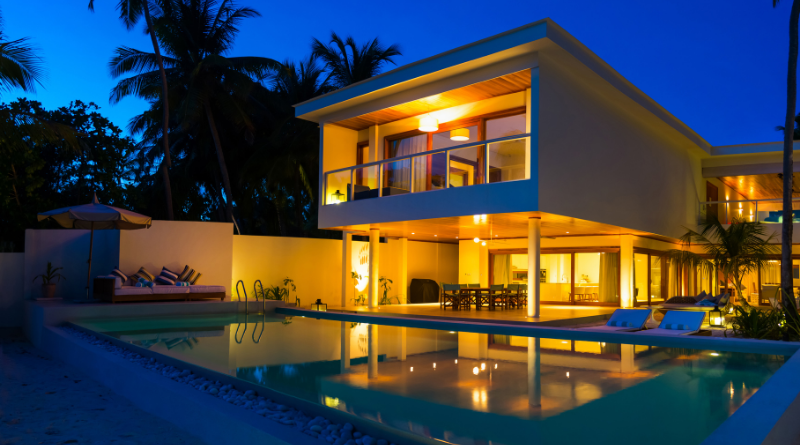 This residence consists of two twin beds and two king-size beds. The statement bathtub in each of these residences is decorated by Skyline of palm. The walk-in shower can provide you with a sprinkle of luxuriousness.
3.8 The Amilla Estate – 6 Bedrooms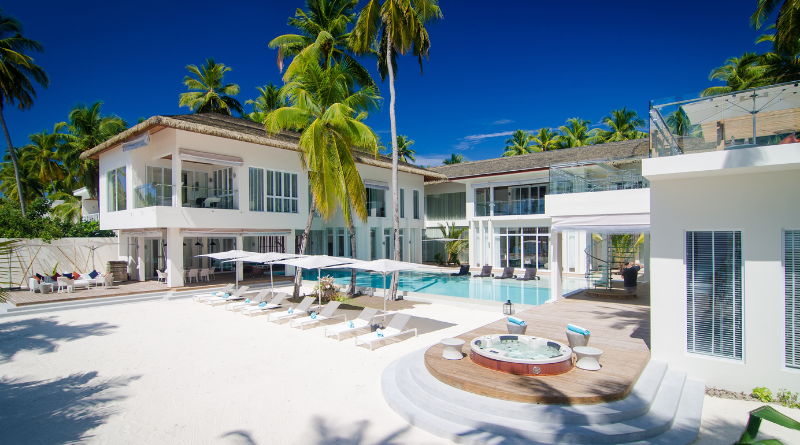 The six-bedroom master suite can provide you the experience of walking into an Alfresco-style tropical courtyard.
3.9 The Great Beach Residences – 8 Bedrooms
The fabulous beach residences are perfect for family get-togethers or large outings. The rooms are ideal for teens and children. The stylish air conditioner rooms come with the feature of high-tech equipment to enhance your stay at the resort. The code-protected computer safety box provides the safest stay in great residencies. Surrounded by elegant designer furniture, you can get the vibe of a carefree stay.
4. Dine and Wine
You can feast on the famous Japanese fusion dishes. The dine-by-design location is secluded from the vicinity, and it provides you with a diverse menu. From vegan to keto and other dietary lifestyles are catered in our resort. You can experience the freshest garden table ingredient in Amilla Maldives resort and residences. From comfort food to fine dining, you will find everything that would suit your mood under one roof.
You can try our sunset bar sipping on to the chilled champagne looking at the live and spontaneous fun for a breezy holiday. Apart from the chilled champagne, you will get a massive collection of wines to choose from. BBQ, Destination Dining, floating tray basket concept, pool island dinner are some options that can unleash the cravings during your stay in the hotel.
Some of the important dine and wine venues in this resort
4.1 Feeling Koi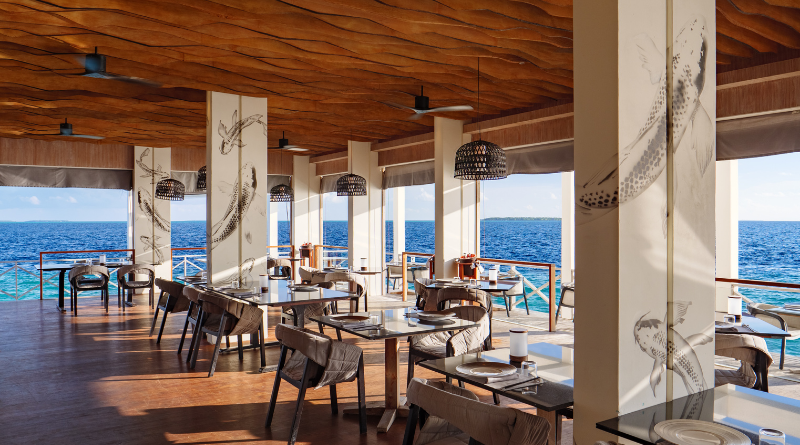 High above the Blue Lagoon, you can get to dine at this famous eatery. It is the star of Amilla'sAmilla's foodie firmament. Make sure that you go for the tree dinner cocktails where you can gaze into the picture-perfect sunset
4.2 Wok
You can get all kinds of Chinese sauces. The Chinese lovers can barge into this place and get lost in their favorite meals' tastefulness.
4.3 Baa Baa Bar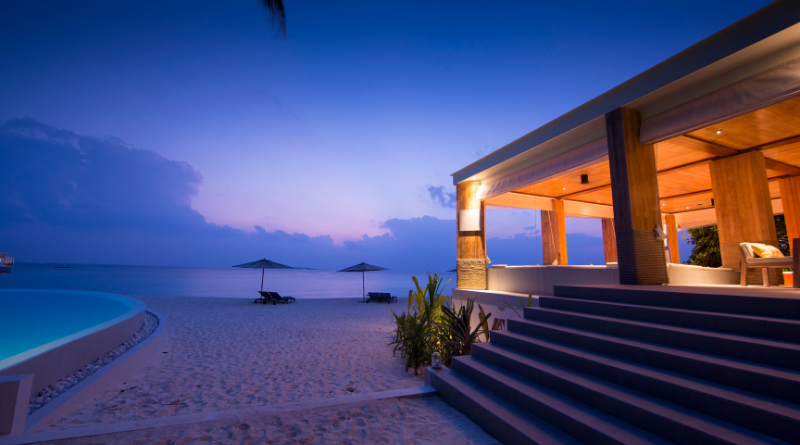 Amilla has no shortage of bars and liquid shops. The Baa Baa bar is the ultimate destination for booze. The decor of this place will chill your mood, making you relaxed as you enjoy every sip.
4.4 Barolo Grill
The Barolo Grill has a special menu. On top of that, you can sit wherever you want and enjoy the place's fanciness along with their tasty food preparation.
4.5 Chilled Café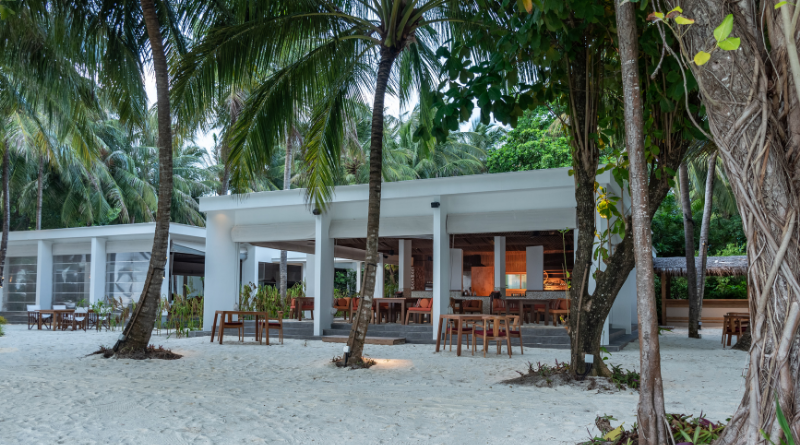 This cache enables all the guests to enjoy a sundowner on a prime spot on Maldives' beach. You can get from alcoholic to non-alcoholic drinks to satisfy your diverse taste.
4.6 Joe's Pizza
From tandoori pizza to a Mediterranean style, this place is ultimate for every pizza lover. What are the famous destinations for every foodie who needs to satisfy their cravings!
4.7 Sunset Bar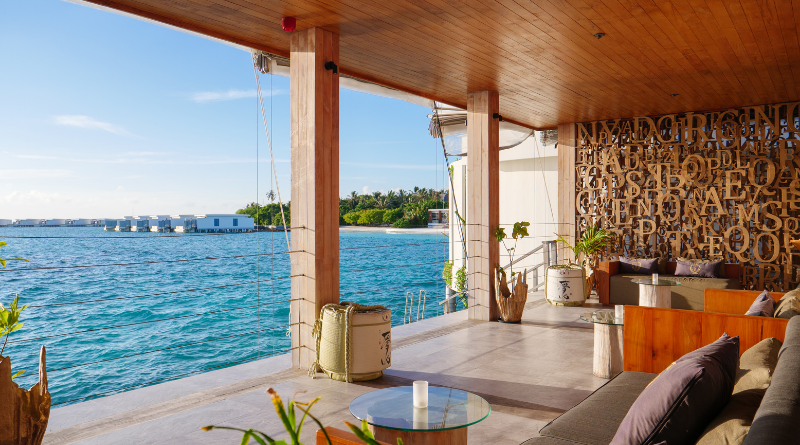 The sunset bar offers an intimate and exciting destination for post-dinner drinks and dessert. You can get the lively vives of DJ's and the classic sound system. You will get to taste premium shakes and wines with large arrays of cocktails.
4.8 The emperor Grand store
Enter this place, and you cannot live without an armful of artisanal treats. It is going to sedate you with their freshly brewed coffee. The cooling ice cream cones are a must when you travel to this place.
4.9 The wine shop and cellar door
It is a heaven for wine lovers. This library of wine has 250 levels from all over the world. You can enjoy a lazy afternoon indulging in some world-famous wine accompanied by charcuterie and artisanal cheese.
4.10 Fresh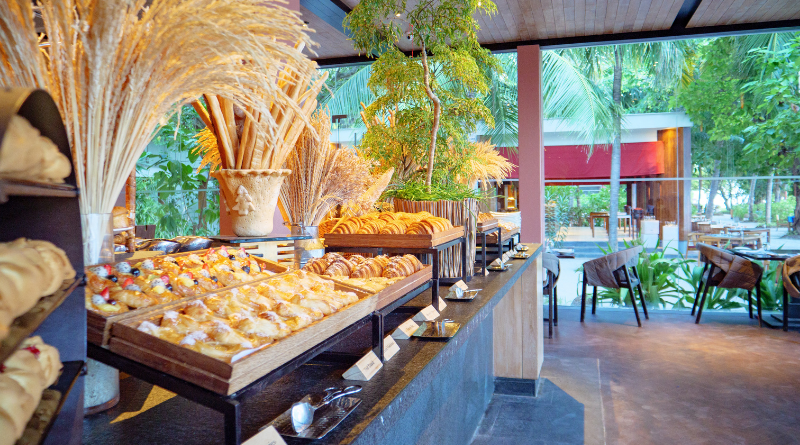 The residence has been provisioned according to your preference and taste exactly like you would have had at home. That is the expectation that Amilla Resort and its residences are happy to fulfill. With an enriching freshness of foods and gourmet items, you can take some home for your loved ones too.
5. Facilities and Amenities
5.1 Boutique shop
For every shopaholic, this place is a Paradise. You can unleash your shopping desires to delve into some traditional garments.
5.2 Java Gym
The gym center is the most trafficked place for every gym lover. One can anchor themselves in some of the best fitness machines that this gym offers.
5.3 Java Spa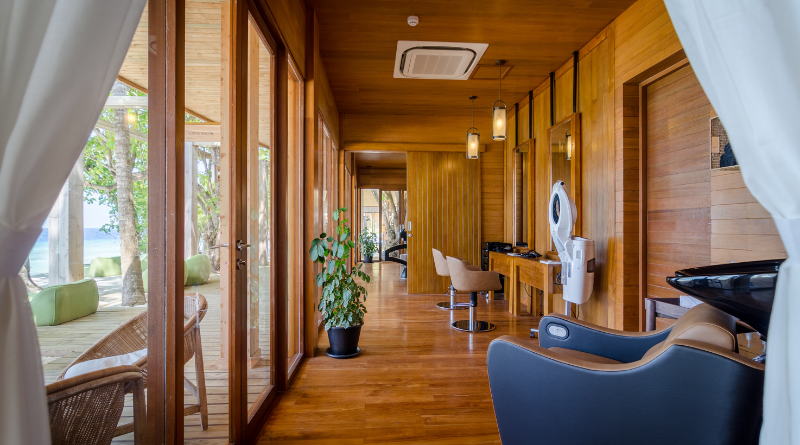 It offers pure massage based on your body problems. It is an international team of beauty and spa specialists that provides treatment by facial massage nails. It caters to the grooming treatment for men who prefer to look well-groomed and smart in classic h modern style.
5.4 Shutturfish Photography studio
You can enjoy all the magical moments at this residence. Keeping this moment captured is advised by our team at Shutturfish photography studio. They will take you to some scenic spots and let you shoot those beautiful picturesque moments. Try some hands in photography to explore your creative side.
5.5 The Sultan's Village kids club
Give your kids the best ambiance to get educated. With the natural yet enriching surroundings, your kids will learn faster. Also, the discount rates provided on some of the activities can credit the state at this resort
5.6 Amilla Fushi Residence amenities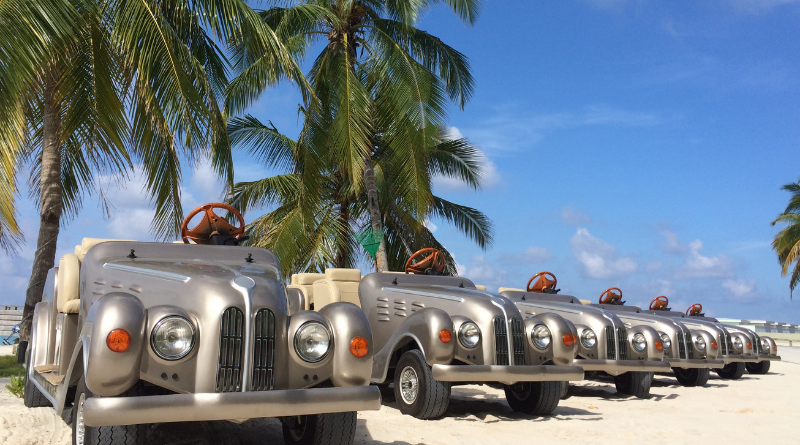 The resort amenities are something that no one can doubt. The waterproof and climate control inflatable pods let you drown yourself in nature. Located in a secluded area, you can enjoy this chic and hip experience.
5.7 Residence Buggies
From making your pizza to diving deep into the phenomenal blue hole lets, you have a one-to-one interaction with nature. In Amilla resort, you can experience the residence buggies to get an exceptional stay.
5.8 Spa
Amid all the traveling, when your body needs the pamper, you can avail professional and therapeutic spa and massage centers to rejuvenate your body and feed your soul with relaxation. You will feel the difference that your body will go through at our spa centers. Indulge in one session of spa and dissipate your stress away.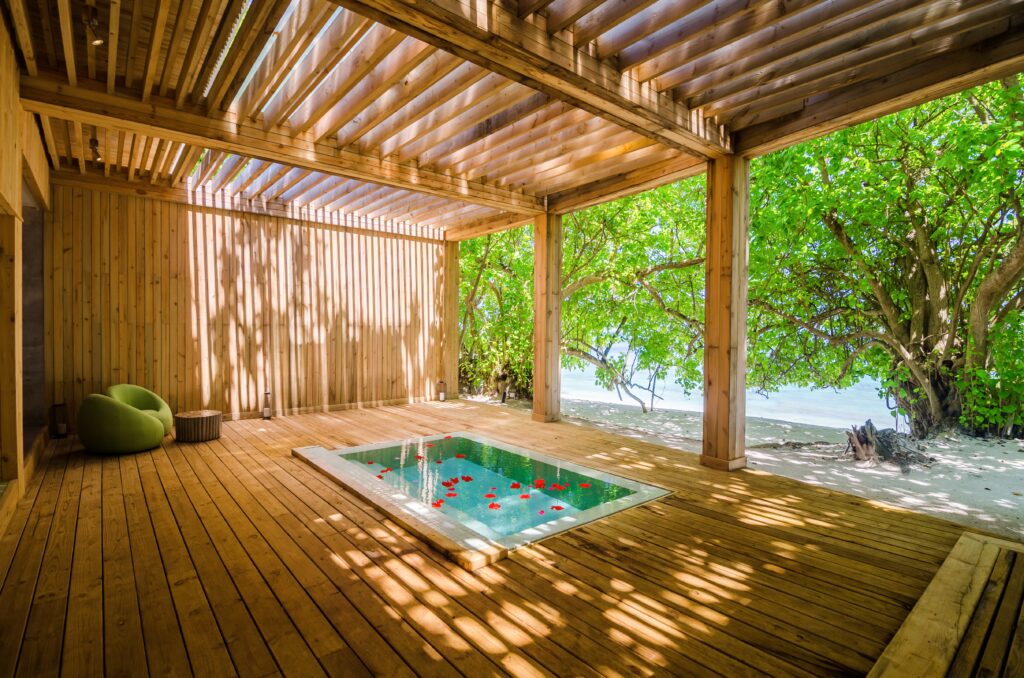 The curious mind can join Amilla's Alchemy bar workshop and learn to make beauty and bath products using natural herbs, flowers, and coconut oil grown on the Island.
You can choose from various energy restoration, relaxation, balance, and meditation techniques to treat your chronic fatigue, depression, and insomnia at our spa center.
Activities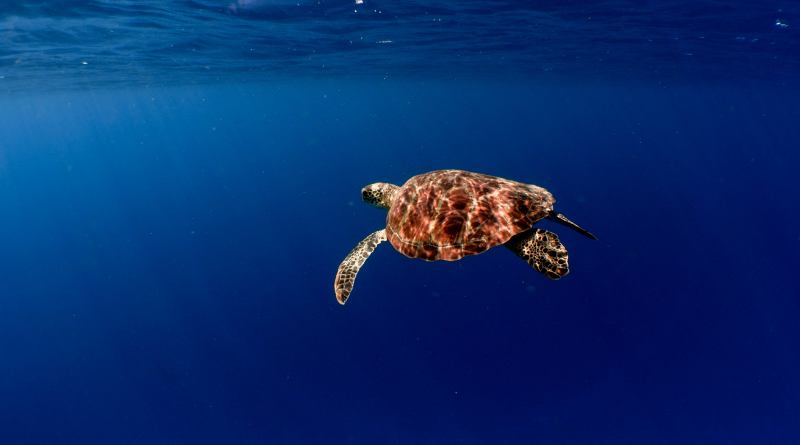 The Amilla Maldives resort and residences can never go dull on activities and amenities. You can never miss a chance to treat yourself to a variety of adventurous water sports. From catamaran sailing, fun tube to Banana boat, paddle boat, windsurfing, excursions, blue hole snorkeling, and jet stream boating, you will get the push on your adrenaline on your stay in Amilla Maldives resort and residences.
You can watch the manta rays, turtles and Whale, Shark spiraling freely into the blue to water. Moreover, you can go along the coral Island's underwater chimneys to get a spectacular experience of diving and snorkeling. The resident guitar shark triggerfish are some of the marine life that you can spot. In this busy program of weekly excursions, you may ground yourself into the beautiful full moon cruise with your loved ones and enjoy every single moment with them.
You can also visit the UNESCO World biosphere reserve to see the remarkable marine life. Apart from this, you can indulge in land-based games like tennis, football, badminton, or beach volleyball. Get the ultimate relaxation with infinite excitement.