Medhufushi Island Resort Guide
Medhufushi Island Resort offers a heavenly peace where tourists can relax and enjoy the stunning view. The air is full of tranquility pervading the idyllic islandwhere the shady, tall coconut trees and beautiful tropical flowers seem to be embellishing the area with their luscious natural beauty. Medhufushi Island resort gives a spectacular look for its lagoon surrounding in the shades of shimmering azure and turquoise blue water.
If you want to spend your vacation in a luxurious with a laid-back rustic view of the Maldives resort, get the best affordable experience in none other than theMedhufushi Island Resort. Its rich diversity, stunning blue oceans, and pristine white beaches of sand in the surrounding area make Medhufushi Island Resort an abode for relaxing days. Moreover, situated in the center of the Meemu Atoll of the Republic Of Maldives, Medhufushi Island Resort is easier to commute to.
Experience the legendary hospitality of the Medhufushi Island resort with the mesmerizing view of the beaches from its expansive villas and suites. Along with these, the unmatched amenities will surely make the stay worthwhile!
---
WHY MEDHUFUSHI ISLAND RESORT ?
With grand property and luxurious villas and suites at an affordable price, Medhufushi Island Resort is the ultimate destination for Maldives lovers! Nestled in the center of the Meemu Atoll, Medhufushi Island Resort provides an unmissable island lifestyle in the true sense. The stunning surroundings of lagoons and sparkling white beaches, and azure blue oceans can make you fall in love with its beauty. It gives a vibe of an oasis of leisure and serenity.
This makes Medhufushi Island Resort an ideal destination for your spending holidays, especially when you are looking for a laid-back and humble vacation in the luscious tropical setting of the Maldives. The wonderful and warm welcome and vast amenities will give you a fantastic time on the island. So, book your Maldives package of Medhufushi Island Resort soon and escape to the world of magnificent beaches, exquisite villas, delicious dining, fun activities and much more!
The deep and lively colors of the island offer a breathtaking view. Spend exotic days and romantic nights in the latest escapades of Medhufushi Island resort to make your special occasions extraordinary! Moreover, take the romantic journey for vows exchange amid lagoons to experience the most beautiful, dreamy ceremony of your tropical love.
Indeed, Medhufushi Island Resort is still an unsung jewel where the myth of Maldives being unaffordable falls flat.
---
HOW TO REACH THE RESORT
Since Medhufushi Island Resort is in the heart of Maldives' Meemu Atoll, it takes just 40 minutes to reach the island resort from the Maldives international airport. The seaplane trip of 40 minutes is a delightful experience in itself. The oh-so-beautiful bird's eye view of the breathtaking atolls looks gorgeous from up above the seaplane during the resort journey.
Plus, there is no need to worry about transportation. The Medhufushi Island Resort makes it a point to arrange maximum transport for the visitors in order to ensure them a comfortable trip to its island resort.
---
ACCOMMODATIONS
The Medhufushi Island Resort has a good 112 jaw-dropping villas and suites. Each of these villas comes with an awe-inspiring design to offer a grand experience to the guests. The enriching natural beauty of the villas and lush green environment makes it a perfect getaway for exploring the scenic beauty of Maldives. Every villa of the Medhufushi Island Resort looks more beautiful because of its distinctive design and lavish amenities.
Book your next trip to relax in the middle of a spectacular lagoon with a tropical climate, pristine white sand beaches, azure blue-colored ocean, delectable cuisines, fun and thrilling activities and romantic dates.
Every resort offers a variety of basic and luxurious amenities to the guests. This includes:
Air conditioner
Free Wi-Fi
Television
Diving Centre
Luxurious bathroom
Laundry
Gym
24*7 Doctor
Spa
Beach Towel
Karaoke
Baby Sitting
Restaurant
Cloak Room
Boutique
Indoor Games
Outdoor Games
Water Sports
Kids Club
Safe
Now coming to the villas, the Medhufushi Island Resort offers various types of villas to accommodate guests with the best!
Beach Villa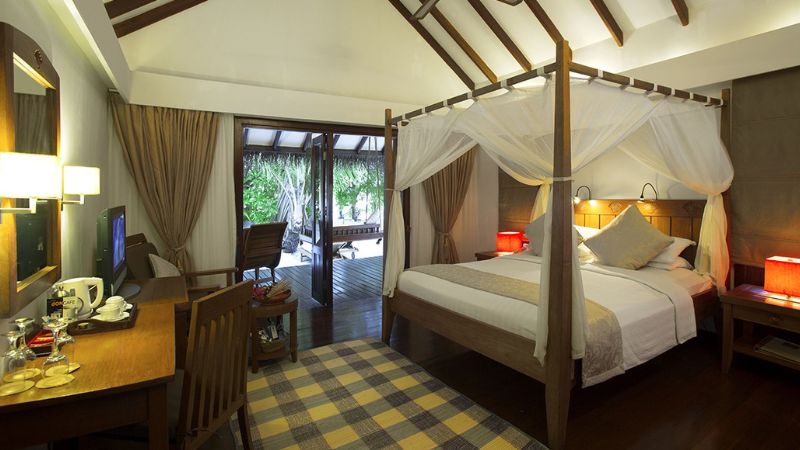 Surrounded by luscious vegetation like sea cabbage and hibiscus to maintain additional privacy, the beach villas are on powder-like white sand. There are a total of 44 rooms, and each of them is decently 65m2 in size. Every beach villa has a king-size, double-bed room that can accommodate a maximum of three adults or two adults and a child.
However, there is scope for extra bedding addition. For better comfort, the villas also offer individually controlled facilities for air conditioning. Other highlights of beach villa facilities include ceiling fans, tea coffee making, a hair dryer, an IDD telephone, satellite television, a mini-bar and an in-room safe.
Beach Villa Suites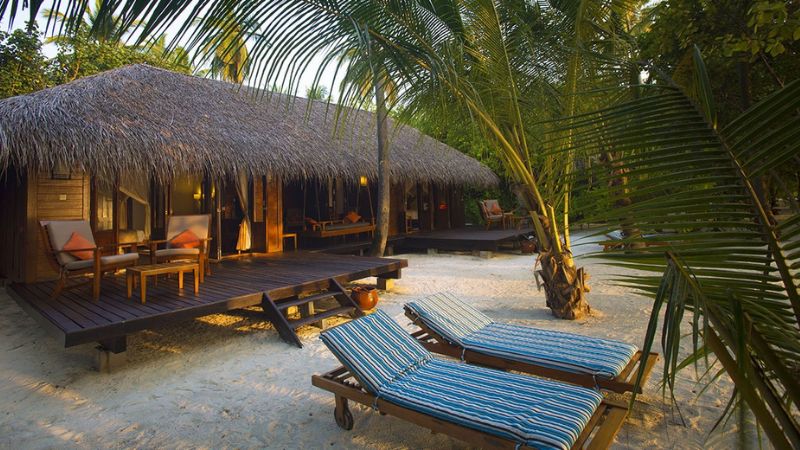 Get a mesmerizing view of the beach from the Beach villa suites. You can spend hours just sitting and relaxing on the balcony. All 8 rooms of beach villa suites are king-size or twin-room type. The grand 178 m2 space offers a maximum occupancy of 4 adults or 3 adults and 2 children. These lavish villa suites provide the guests with extra bedding and tea/coffee-making facilities. In addition, beach villa suites have amenities like a bath shower, ceiling fan, in-room safe, satellite television, hair dryer, IDD telephone, mini bar and a bathtub.
Water Villa
Just like other villas, water villas are also available in king-size double-bedroom types. All total, the resort has 44 water villas for the guests, which comes with 60 m2 size. This is perfect for accommodating 2 adults with utmost comfort.
Even though you wouldn't get the extra bedding capacity, the water villa has a mini bar, in-room safe, mini-bar, tea coffee making facilities, satellite tv, IDD telephone, hair dryer, individually controlled air conditioning, individually controlled air conditioning as well as a bathtub.
Semi-Detached Beach Villa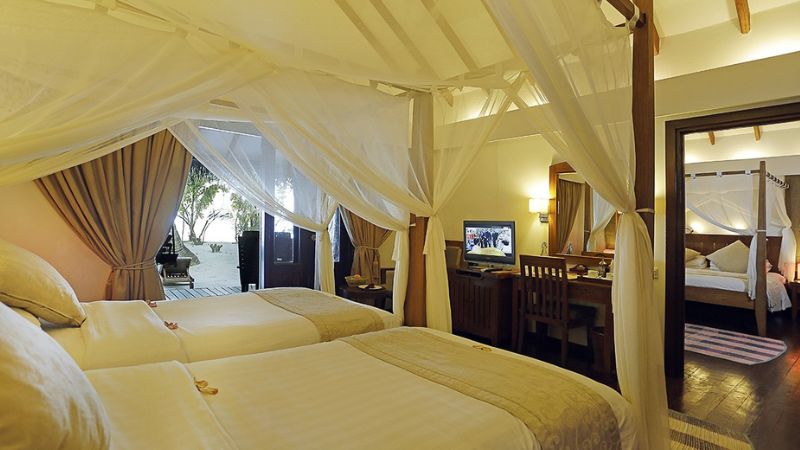 In semi-detached beach villas, there are altogether 14 rooms with a good space of about 65 m2. Here the maximum occupancy is either 3 adults or 2 adults with a child. The villas can add extra bedding when required.
Just like beach villas, the semi-detached beach villas offer the same facilities such as an individualized air conditioning control facility, ceiling fan, tea and coffee making system, hair dryer, IDD telephone, satellite television and in-room safe for additional protection of precious assets.
Lagoon Suite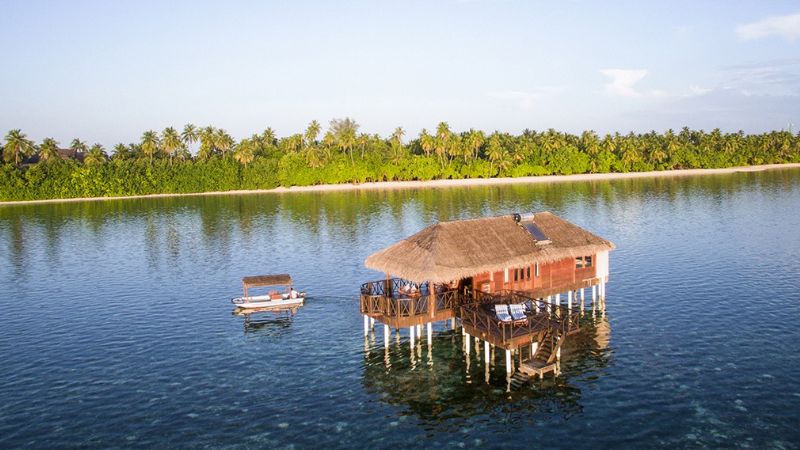 The availability of the luxurious lagoon suite is only two and each of which is 152 m2 in size. Although there is no possibility of adding extra bedding, all other facilities, including IDD telephone, ceiling fan, individualized air control of air conditioning, tea/coffee making, satellite TV, in-room safe, mini-bar, and hair dryer, are present.
What makes lagoon suites stand out from the rest of the villas is its fancy indoor Jacuzzi.
---
DINE AND WINE
Get yourself on the embarking journey to fill your stomach with different flavors and hues. At the Medhufushi Island Resort, you are going to get delectable food and drinks at restaurants and bars.
Sitting at the restaurants and a bar, the tourists cannot only enjoy the yummy food but also derive pleasure from watching the breathtaking oceanic view.
The restaurants have culinary chefs who prepare mouth-watering dishes using fresh and quality ingredients. The best part is probably the chance to get your meal prepared by the experts at live stations. You can also ask for specific arrangements to eat, and the staff are warm and friendly to make your needs fulfilled.
Malaafaiy Restaurant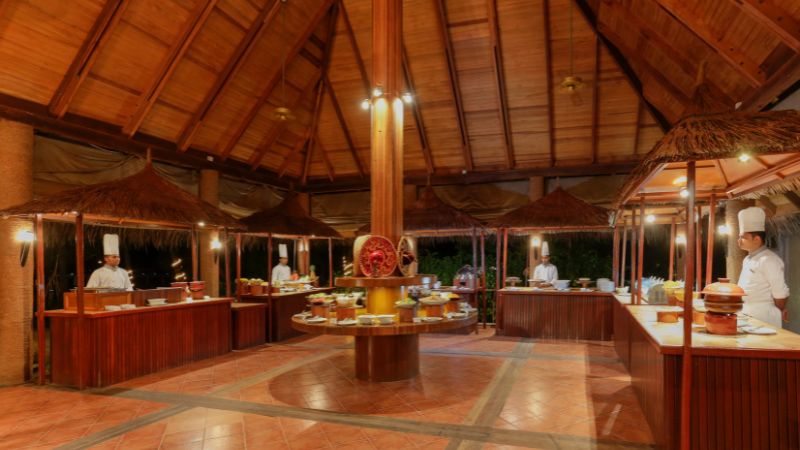 Set beside the exotic infinity pool overlooking the magnificent lagoon, you can relish breakfast, lunch as well as dinner in the buffet style. This multi-cuisine restaurant has culinary influences from all over the world.
Alfresco Restaurant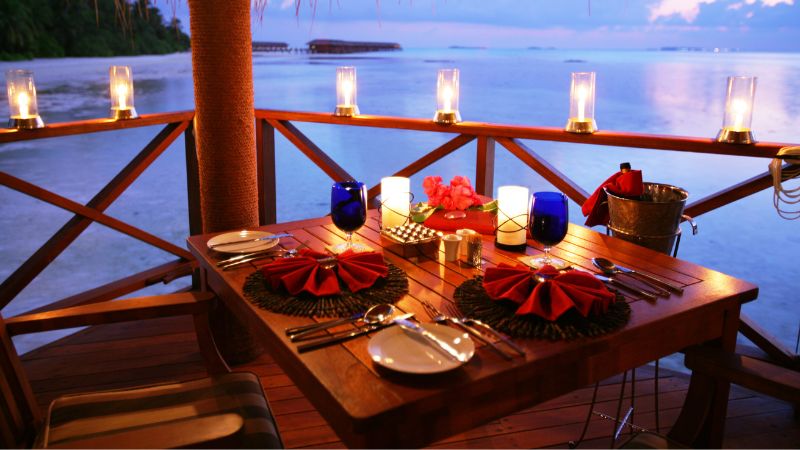 Located at the pavilion, Alfresco restaurant serves different varieties of ala carte menu and beverages to relish every bite of the food and drinks.
Witness the beautiful sunset view from the restaurant's open-air seating space while enjoying your order.
Special Beach Dinner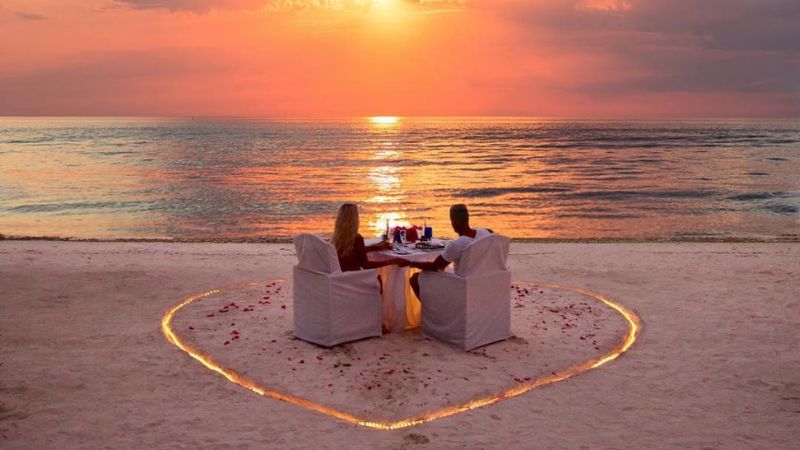 This is available for celebrating the special occasions of the tourists. There is an option to get everything served on the villa deck, beach or the sunset pavilion.
The Vilu Bar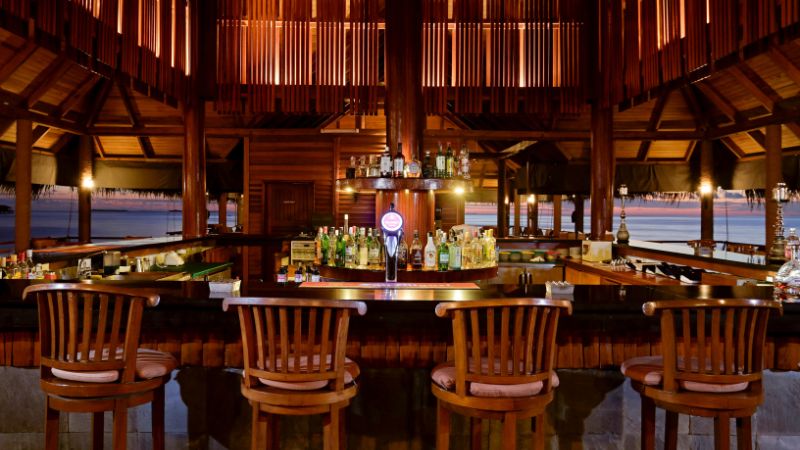 Situated on the lagoon, the Vilu Bar offers a spectacular view of the ocean and the beach. You can get a wide variety of premium cocktails and beverages. As complementary dishes, the bar offers an extensive menu of delicious snacks.
---
FACILITIES AND AMENITIES
Fitness Center
Well, the Medhufushi Island Resort cares for fitness and knows how many tourists don't want to miss out on working out, even when on holiday. So, the resort offers a fitness center equipped with fitness tools.
Spa and Wellness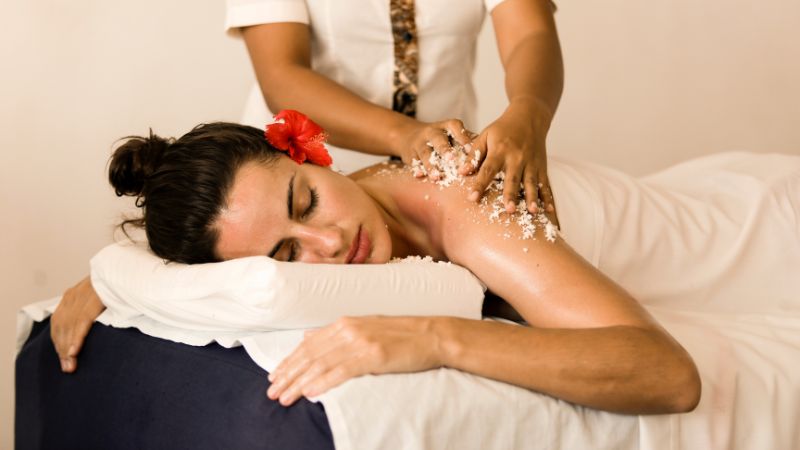 When looking for pure luxury, the Medhufushi Island resort spa will not disappoint you. It provides everything that you would need to relax your mind and feel revived.
Situated over the sparkling lagoon water, this stunning resort spa treats clients with an array of relaxing experiences. From classic treatments to luxurious ones, there are therapies for every visitor inspired by the seasons. The twin treatment is ideal for calming and discovering thrilling enjoyment practices for couples and honeymoon couples who want to have a special experience.
Souvenir shop
Who wouldn't want to take something back with them before departure as a mark of their stay in the stunning property? Medhufushi Island Resort has its own souvenir shop for taking back a piece of memory with you.
---
ACTIVITIES
Water Sport Center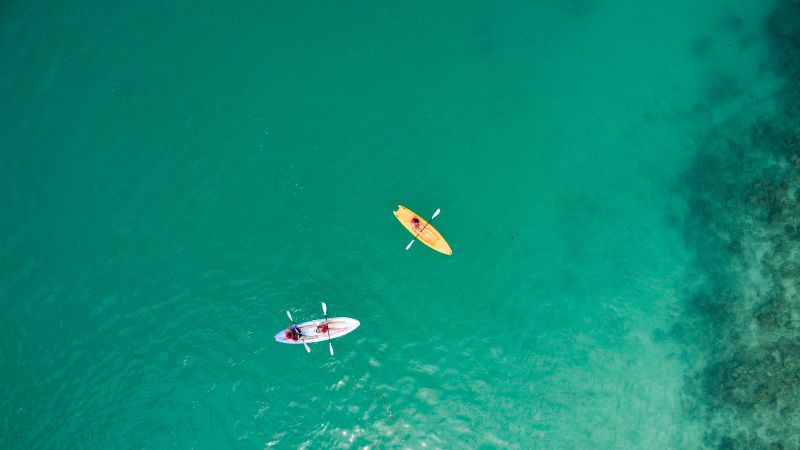 The water sports center hosts a variety of activities that makes the experience more adventurous and exciting. It is good news for surfers to know Meemu Atoll has great surf points that are close to each other. These uncrowded surfing points are excellent for tourists of all skill levels. Here are some of the must-do water sports when in Maldives.
Jet ski
Wakeboarding
Fun tubes
Banana ride
Kayaking
Stand-up paddle
Dryland Activities
On the dryland, Medhufushi Island resort offers fun activities to satisfy your inner soul. This includes:
Volleyball
Table-tennis
Billiards
Excursions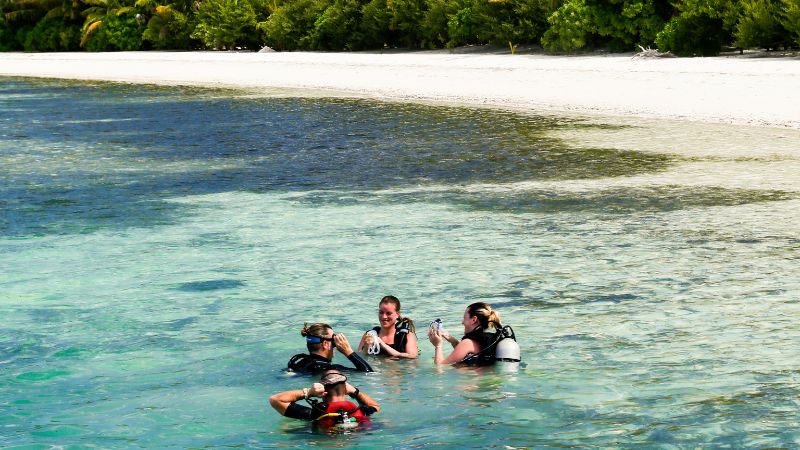 A Medhufushi trip isn't just about a beach holiday. You can enjoy exploring the infinite marine life on your journey to snorkeling. Besides this popular activity, our excursion includes other fun activities that can fix your adrenaline rush.
Sunset morning fishing
Deep sea and line fishing
Snorkeling
Island hopping
Dolphin watch safaris
Renewal of vows and Wedding ceremonies
Begin your best chapter of life in the most exquisite location. The sparkling sandy beaches and soothing sea breeze will add warmth and grandeur in the right sense to your island wedding.
Our team looks into the personalized needs and approach of every bride and groom to make the wedding day a great success.
Diving
The Werner Lau diving center team is always ready to welcome you to the resort. It is really tough to beat the experience of scuba diving in the Meemu Atoll. Even though the house reef is absent, you can find well-known dive sites in the Atoll where diving is easy because of the coral formation protection.
Discover the eye-catching coral garden, small sharks, reef fish and unique underwater macro life. On the outer reefs, you can also get a glimpse of the mantas, reef sharks and whale sharks occasionally in the strong current.
CONCLUSION
Overall, Medhufushi Island Resort is a magnificent accommodation for tourists in the Maldives. You can check the availability of rooms in the resort and confirm your bookings. You will feel heartfelt warmth during your stay in the resort. The beachfront bungalows will make you feel comfortable.