Banyan Tree Vabbinfaru Resort Guide
What comes to your mind when you visualize islets of sparkling white sand and tropical palm trees stretching like a necklace? Of course, these thoughts take you to the paradise of coral islands in the Maldives. But, although the lap of Mother Nature always welcomes travelers, you cannot avoid searching for luxury hotels.
If you want to get the best-in-class experience in the island paradise, you can book your room in the Banyan Tree Vabbinfaru Resort. It is the perfect destination for affluent travelers, who desire idyllic retreats. Banyan Tree Vabbinfaru offers everything ranging from luxurious amenities to impeccable services.
---
An Overview of the Resort
Banyan Tree Vabbinfaru is one of the international chain resorts established in 1995. Its strategic location, calm environment, and lovely villas have drawn the attention of travelers from different countries. The resort is a perfect amalgamation of modern and traditional styles. If you want to recharge the hidden batteries in your body, a short-term stay in the Banyan Tree Vabbinfaru resort is enough.
The magnificent island resort has a thatched roof that reflects the traditional Maldivian style. Besides, you will find an opportunity to participate in water sports and get pleasure from Italian dishes in the restaurants. 
---
Why Banyan Tree Vabbinfaru Resort?
The elegantly designed villas in the Banyan Tree Vabbinfaru Resort will impress you in every way. Whether you are an adventure seeker or a serenity lover, the resort provides you with everything.
A private pool, a jet pool, an outdoor terrace, a timber-made deck, tropical surroundings, and a lot of amazing things are awaiting you. Your enjoyment will reach an optimal level.
---
How to reach the resort
The Vabbinfaru resort floats in the Malé (Kaafu Atoll). If you choose a speedboat from the Velana International Airport, it takes 25 minutes to reach your destination. Surrounding by the coral reef, the resort has friendly staff who will welcome you with signature juices and clean towels.
---
Accommodations
The Vabbinfaru resort presents you with villas surrounded by lush gardens. You will find a combination of luxury and privacy no matter what rooms you have chosen.
There are 48 round villas with cone-shaped roofs. Bamboo, woven grass, palm, coconut, and tropical woods have been used for the buildings. Every villa includes a private pool with an adjacent jet pool. The outdoor space is quite generous. To ensure your comfort, you can choose between foam and feature pillows. Furthermore, hygiene is maintained in both indoor and outdoor spaces.
Ocean View Pool Villa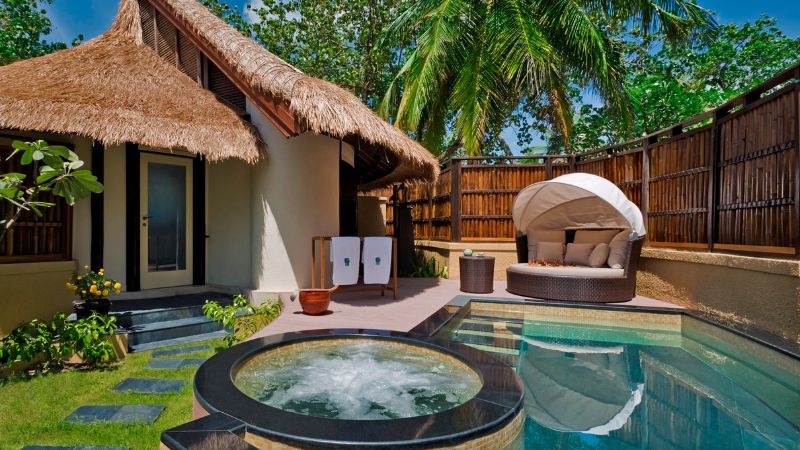 With French doors, curved walls, and king-size beds, the Ocean View Pool Villa gives you a romantic sensation. You can also step out of the bedroom to enjoy the open space of the wooden patio. The jet pool and the private pool are also easily accessible from this villa. Other room amenities include outdoor/indoor showers, coffee makers, Wi-Fi, a minibar, and a pillow menu. You can start your day with a view of the Indian Ocean.
Beachfront Pool Villa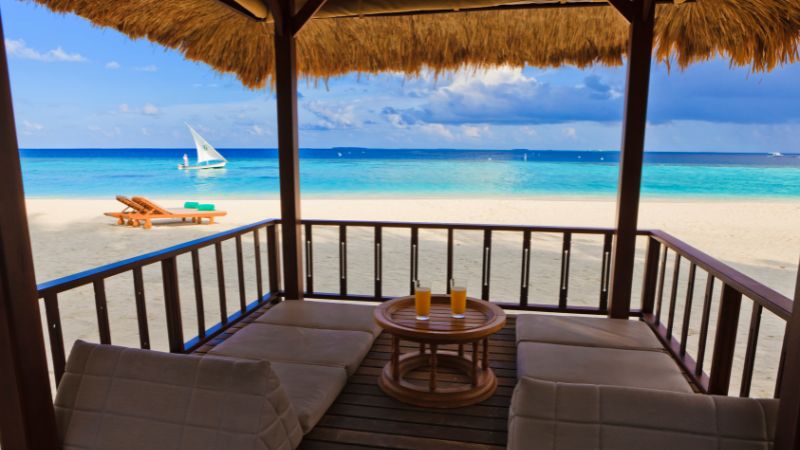 If you love traditionalism, this accommodation is the right choice. It comes with a conventional Maldivian design that includes a wooden walkway and a lovely outdoor shower. The walkway also lets you access the soft sandy beach and the ocean. Other noticeable features of this accommodation package include an open bathroom and high-end furnishings. You will feel as if you are a beach dweller.
Grand Beachfront Pool Villa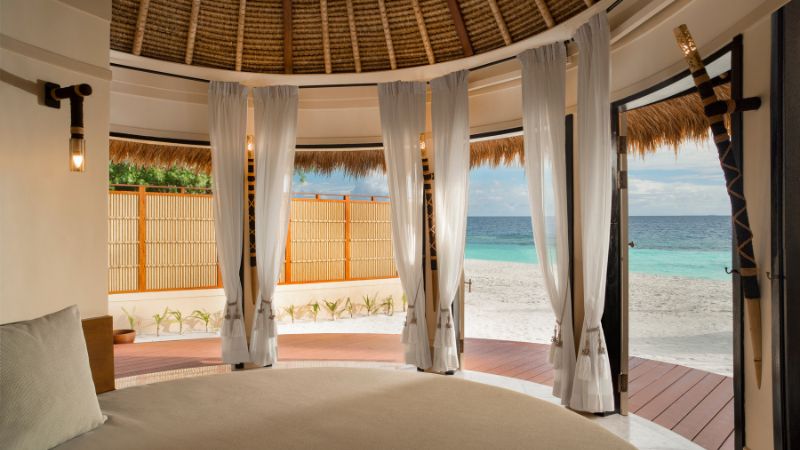 The rooms have the capacity of accommodating 5 guests. In-room amenities are almost the same as other accommodation packages. Large families that need a spacious suite can choose this beachfront room. The outdoor space has a lounger to let you relax. What's more, you will enjoy a private pool and the turquoise water of the ocean. 
---
Dine and Wine
Whether you want to start your day with fresh fruit juices or delicious pastries, the dining experience at the resort is remarkable. You can also try out Mas Huni, one of the Maldivian specialties. So, where will you go for dinner and wine?
Illafathi Restaurant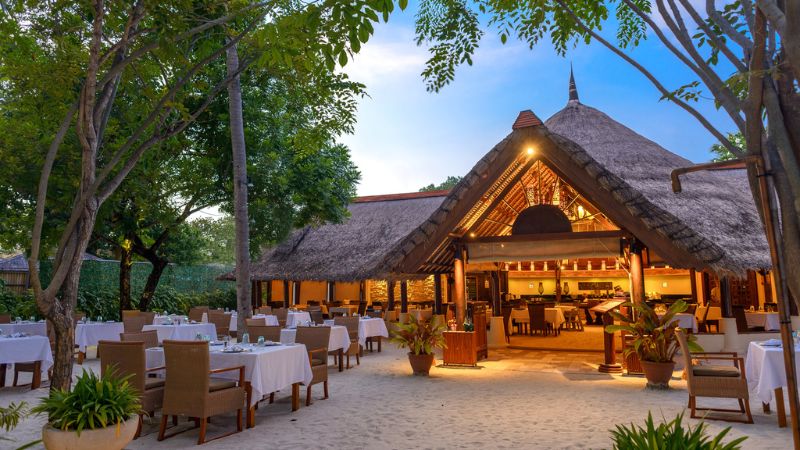 With properly wooden tables, the restaurant offers casual yet rustic settings. The sandy beach and tropical trees have created a perfect background. While pleasing your eyes with this tropical paradise, you can enjoy the taste of flavorful dishes.
Naiboli Bar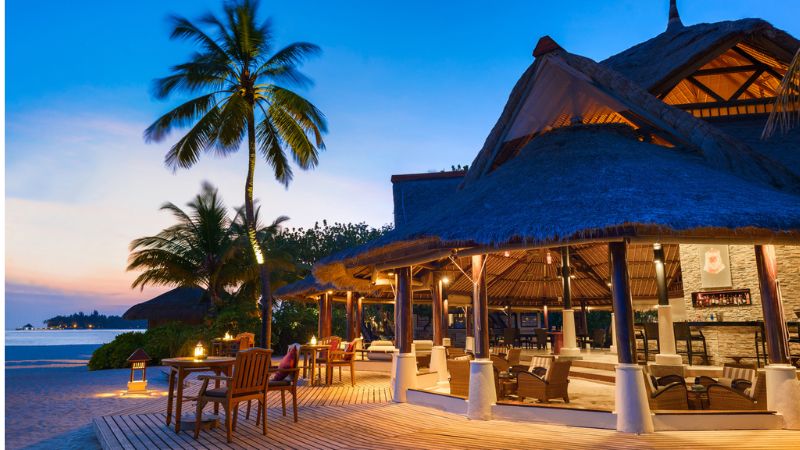 Located at the beachfront, the bar is the best venue to refresh your mind with ocean views. At the same time, you can quench your thirst by sipping a glass of champagne, classic wine, or exclusive cocktails. You can also choose this venue to experience private dining and trigger your romantic feelings.
In-Villa Dining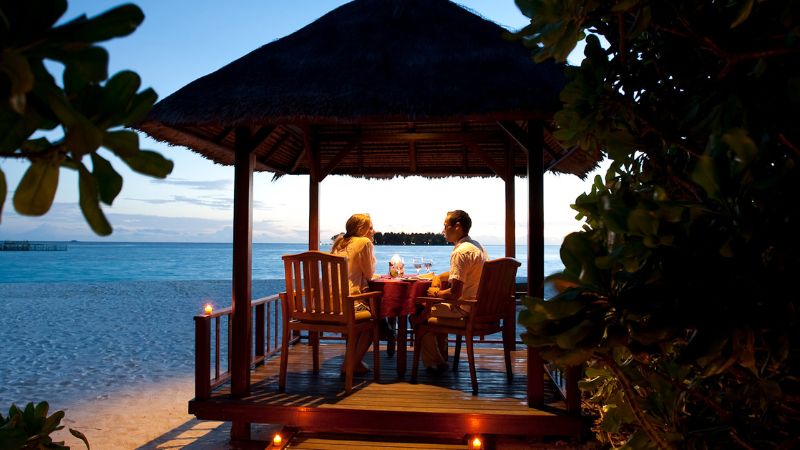 Regardless of any special occasion, you can opt for in-villa dining at Banyan Tree Vabbinfaru. Feel energetic with a nutritious breakfast and have some yummy dishes for your lunch. Honeymooners also can enjoy in-villa dining to feel romantic.
Destination Dining
Do you like to choose a special destination to enjoy your meals in a different way? Banyan Tree Vabbinfaru gives you that freedom as well.
Floating Dining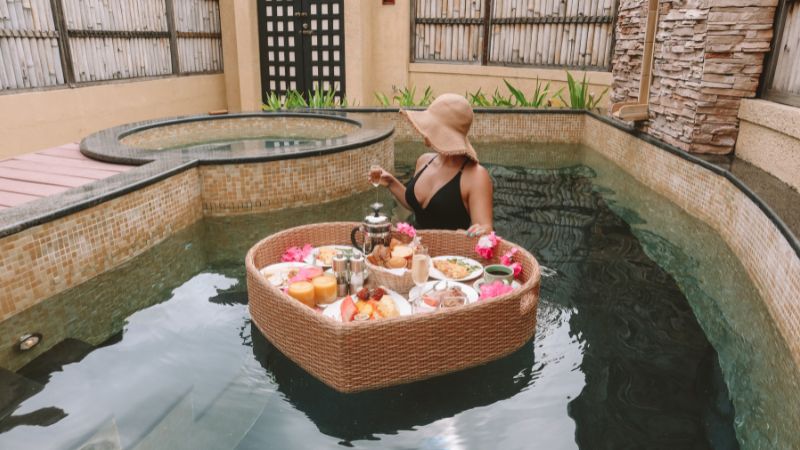 It is truly amazing when the hotel staff serves your breakfast in a large floating tray filled with coffee, fruits, and toast. While the flowing water of the pool produces soothing music, you can indulge in your delicious breakfast.
Discovery Dining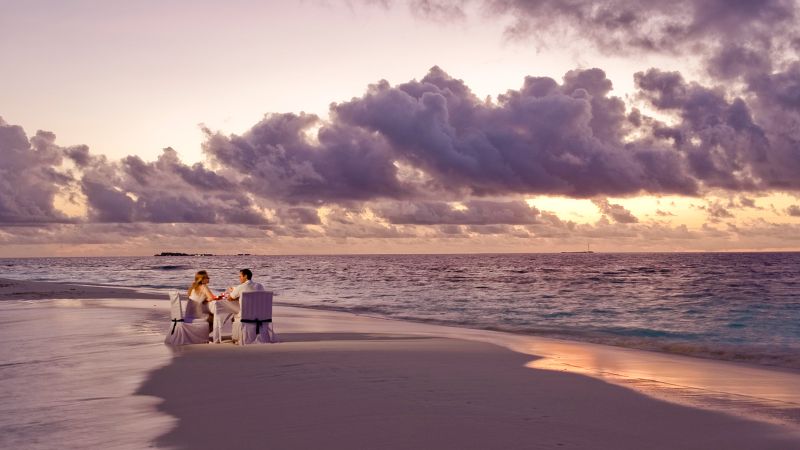 It is something unconventional and interactive as it closes the gap between the digital and physical environments. Banyan Tree Vabbinfaru presents you with 5 different locations where you will get unique savor from your meals.
Shark Point Beach Dinner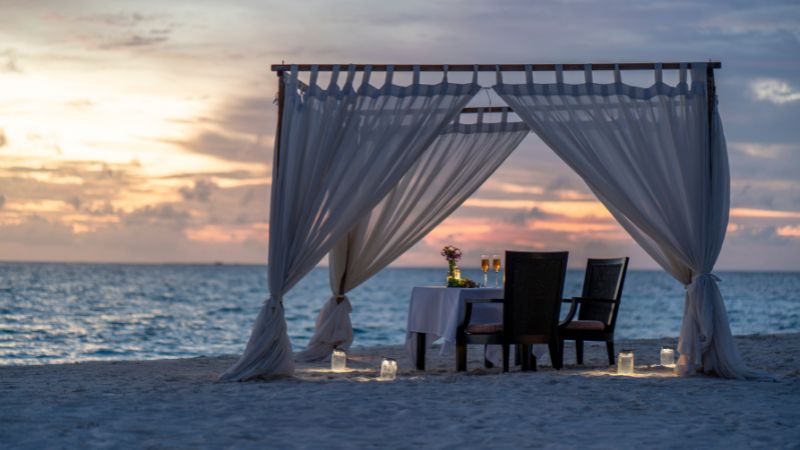 Cool sea breeze heals your body and mind. If you want to enjoy the gentle breeze while having cooked meals, you can then choose Sharkpoiint Dinner.
---
Facilities and Amenities
From spa treatments to culinary delights, everything is available to the guests at Banyan Tree Vabbinfaru. Let us make a list of the modern amenities at the resort.
Banyan Tree Spa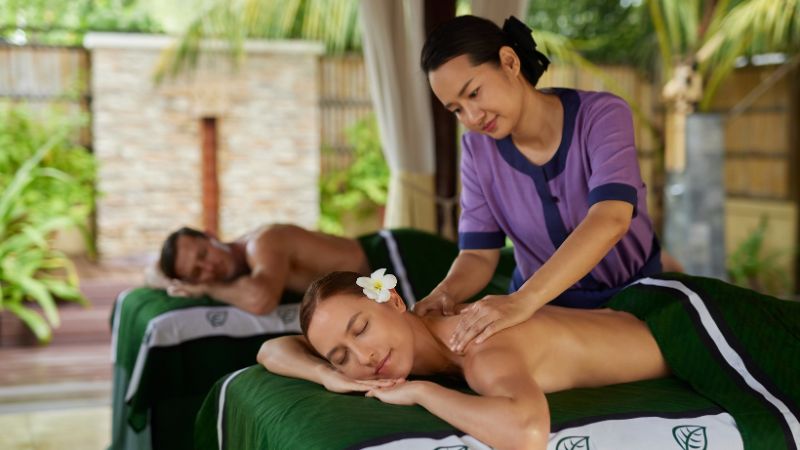 The spa facilities at the resort rejuvenate your senses and maintain your well-being. You can even find Asian spa traditions and other holistic treatments to preserve your health. You will be treated with locally sourced ingredients.
PADI Gold Palm Dive Center
As it is a PADI Gold Palm Dive resort, you can enjoy your diving adventure in the Maldives. The underwater activities like diving and snorkeling will make your trip remarkable.
Yoga Studio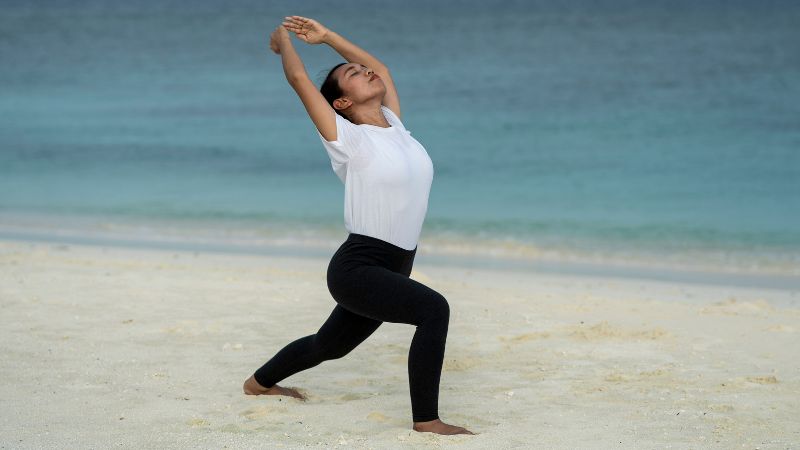 Get in touch with in-house yogi gurus and engage in yoga sessions. If you are a fitness enthusiast, the yoga studio will surely win your heart. There are several other wellness facilities, including
Hand massage
Full body massage
Couples massage
Back massage
Makeup services
Sun loungers
Beach chairs
Jacuzzi
Marine Lab
The Marine Conservation Lab has made the resort different from other accommodations in the Maldives. Learn more about the conservation program that develops awareness about the coral reef and endangered species. You can participate in reef cleaning and coral planting.
Wedding and Honeymoon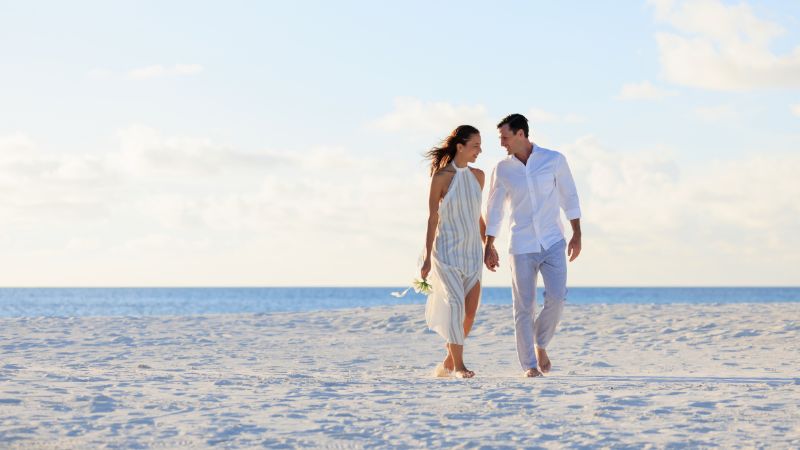 If you are looking for a dream wedding destination or a perfect honeymoon spot, you can book the venue of Banyan Tree Vabbinfaru. There are professionals to personalize your celebration and make your event successful. The amazing beach wedding package offered by the resort include flowers, decor, wedding cakes, champagne bottles, garlands, flower bouquet, and other romantic decorations.
You will find a romantic setting that is desirable for your wedding party or a honeymoon trip. So, book your package and make your event memorable.
---
Activities to keep you Active
Banyan Tree Vabbinfaru is not simply a place for your accommodation needs. It encourages you to involve in various activities.
Coral planting: Plant the coral reefs as a part of fun activity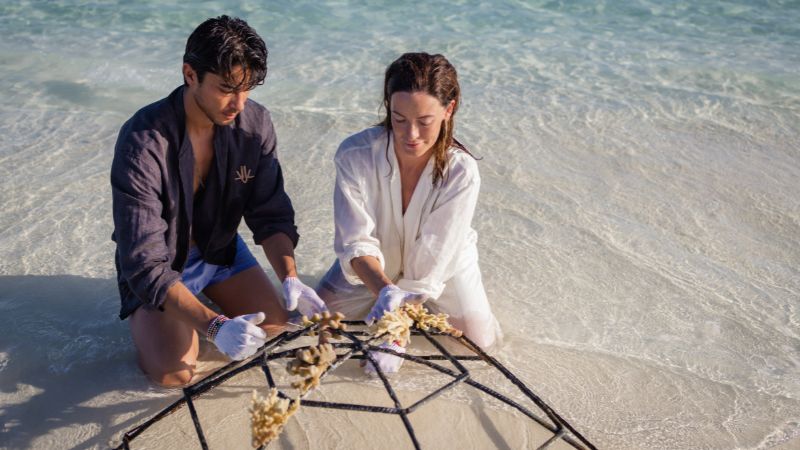 Reef Cleanup: Minimize the loss of coral reefs
Regular Kayaking: While kayaking in the pristine water, you can enjoy the view of the colorful fishes and stunning environment.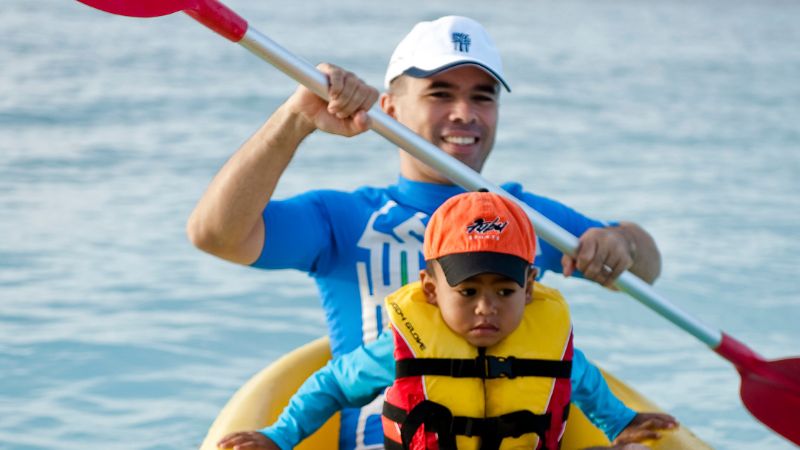 Table Tennis: Play table tennis with your companion and never feel bored.
Body Beru: It is a cultural music performance that gives you a high level of entertainment.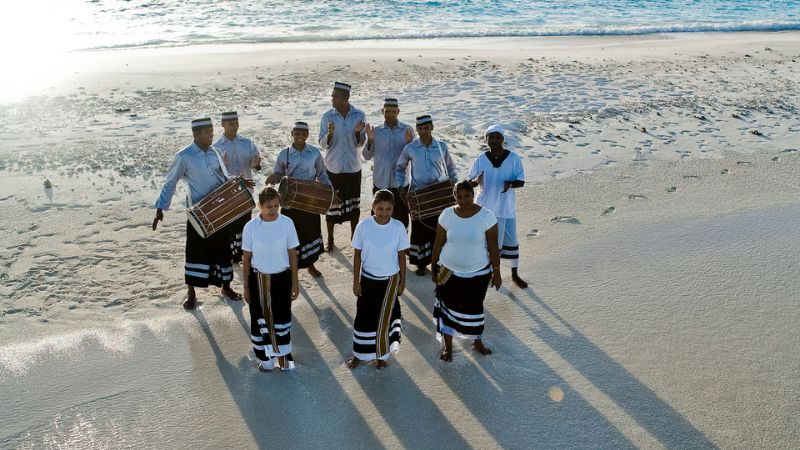 House Reef Snorkeling: This water activity will let you encounter hard corals and tropical fishes, including reef sharks and sea turtles.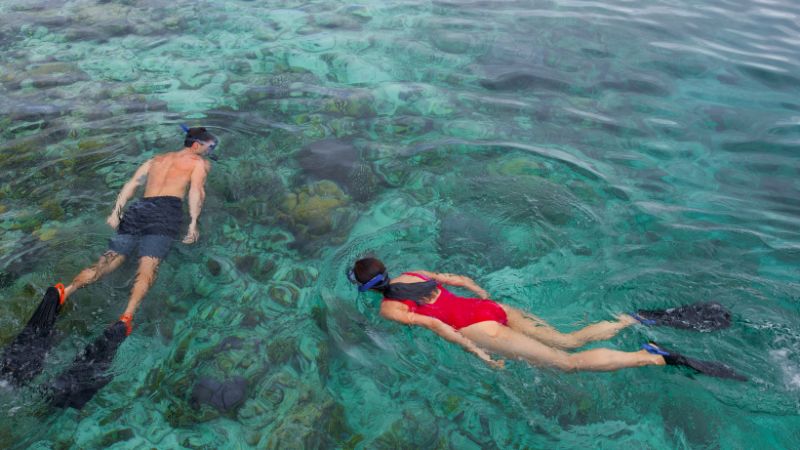 Beach Volleyball: Play the sand-based court sport with an inflated ball. Enjoy this sports activity during your long vacation in the Maldives.
Catamaran Sailing: If you love a cruise trip, catamaran sailing is the best activity for you. You can unwind yourself while navigating the sea in an oversized sailboat.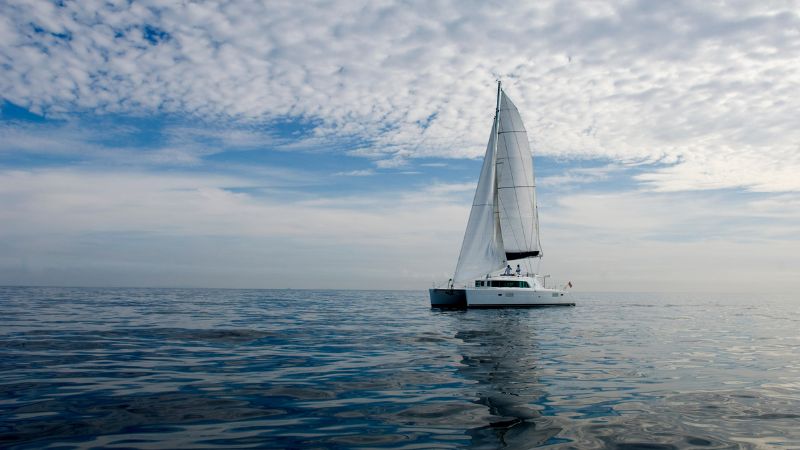 Windsurfing: It is another activity never missed by water lovers. The time from May to August is perfect for playing the windsurfing game.
---
Conclusion
Overall, Banyan Tree Vabbinfaru is an eco-friendly resort with a colorful reef and white sand shores surrounding it. If you desire a luxurious experience on your trip to Maldives, you can book your room in this resort. The shades of banyan and palm trees make you feel cool. Besides, Indonesian-style decor in the buildings would catch your attention.
What's more, the interconnecting villas with a family-friendly layout are available at different rates. From the day you arrive at the resort, you will get a warm treatment from the efficient and genial staff. So, if you have planned to visit the Maldives, you may choose Banyan Tree Vabbinfaru as your accommodation.