Choosing the best resort is important for travelers in the Maldives. Furaveri is a great resort for travelers from different countries. Professional staff, good surroundings, airy rooms, and strategic locations are some reasons for choosing the resort.
---
WHY FURAVERI ISLAND RESORT ?
Furaveri is different from other resorts in the Maldives. Why?
Furaveri provides you with spacious and well-designed villas that have a magnificent setup. Whether you want a simple residence or a beautiful garden villa, Furaveri meets your needs.
Top-rated restaurants- There are 3 restaurants and bars to serve tourists with diverse culinary preferences.
Adventurous and entertaining activities- Water sports lovers will find Furaveri the best destination.
Wellness centers- Spa treatments and other holistic therapies are available at an affordable rate.
Occasional discounts and promo codes will make your deal more cost-effective.
Modern amenities like Wi-Fi, laundry, refrigerator, LED TV, AC, and coffee makers are available in every room.
---
HOW TO REACH THE RESORT ?
Located in the Furaveri Maldives Raa Atoll, it is 40.4 kilometers away from the Male International airport. It takes only 45 minutes in the speedboat and 30 minutes by domestic flight to reach this extravagant destination. Seaplane Option is also available.
---
ACCOMMODATIONS
High-end accommodation is always desirable to travelers who want comfort and luxury. Furaveri has gained the attention of several tourists with its well-designed rooms.
Garden Villa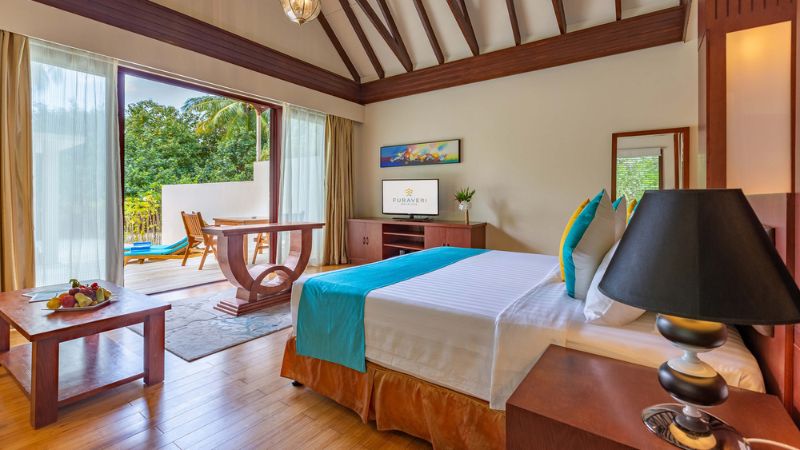 If you love greenery in the surroundings of your accommodation, the Garden Villa is the right choice. The lush tropical greenery around your villa will give you a soothing sensation. However, the sandy shore is not far away from your Garden Villas. Rooms in the Garden Villa are quite spacious and have a highly elegant setup.
Max Guests -02 Adults & 02 Children / 03 Adults
Bed Size-01 King Bed
Room Size-110 SQM
Beach Villa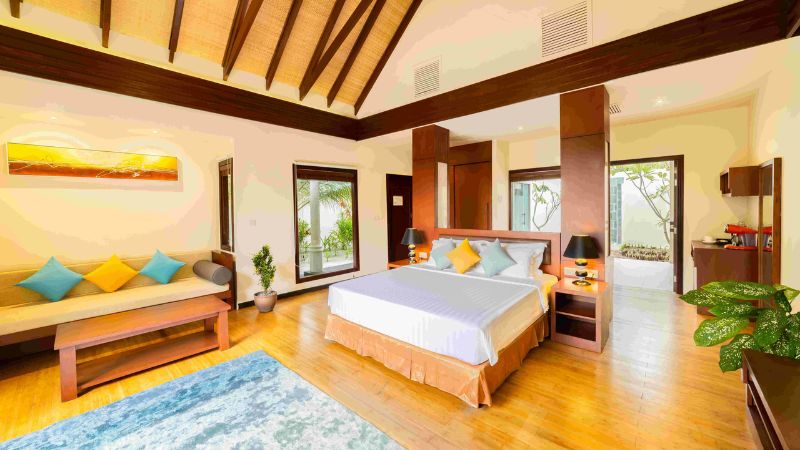 Beach Villas come with multiple rooms and large cozy beds to let you feel relaxed. You can fulfil your dream of living in an island accommodation. The mesmerizing view of the island is another advantage of choosing the villa. From the coffee maker to bathtub and rainfall shower, everything is available in the villa to let you unwind yourself.
Max Guests-02 Adults & 02 Children / 03 Adults
Bed Size-01 King Bed
Room Size-125 SQM
Beach Pool Villa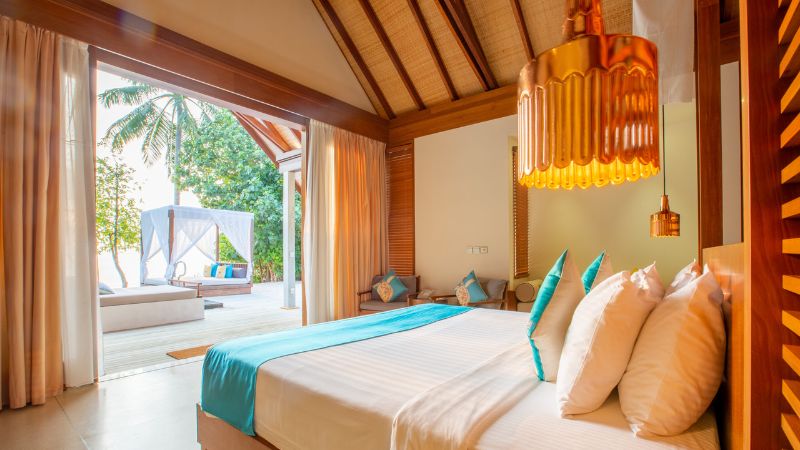 Both the swimming pool and the sandy beach are accessible to guests at Furaveri. Beach Pool Villas let you enjoy the unparalleled beauty. The simple and pure settings combined with opulence will provide the best experience. If you want beachside and poolside accommodations, you can consider Beach Pool Villa.
Max Guests-02 Adults & 02 Children / 03 Adults
Bed Size-01 King Bed
Room Size-155 SQM
Dhoni Pool Villa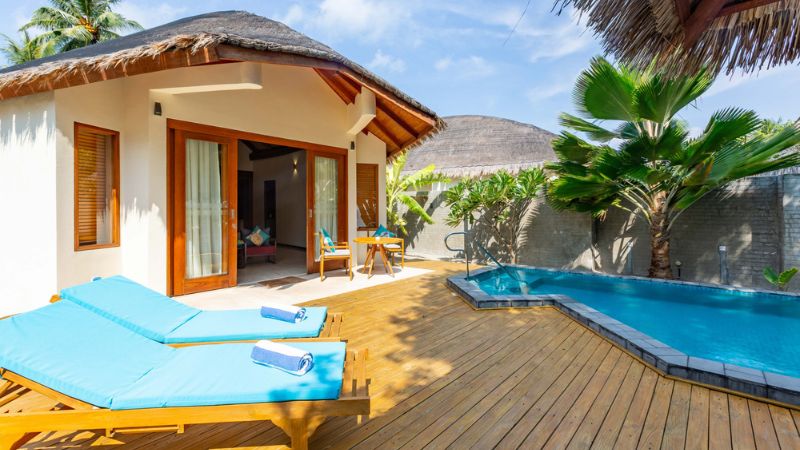 Many travelers want to find Maldivian heritage in the rooms they book. The overall setup reflects a contemporary, stylish design. You will find a touch of the traditions of Dhoni, a type of Maldivian fishing boat. The beach is also close to the villa, which has a blend of luxury, comfort, and natural beauty.
Max Guests-02 Adults & 02 Children / 03 Adults
Bed Size-01 King Bed
Room Size-200 SQM
Ocean Villa Horizon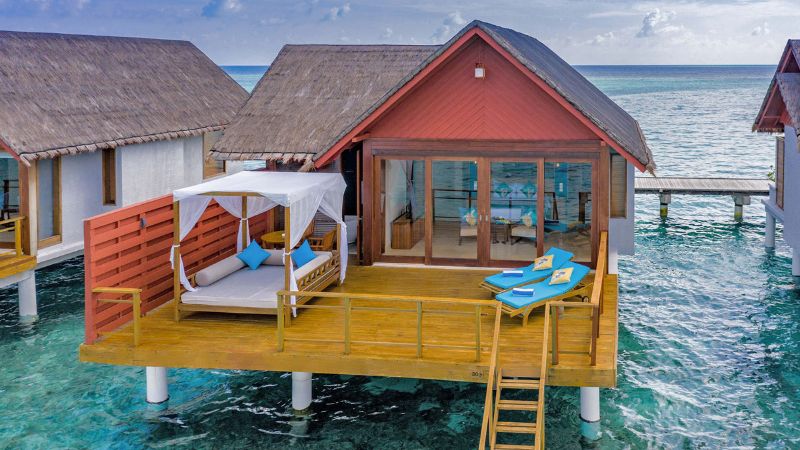 Ocean Villa Horizon lets you enjoy the view of the blue water of the ocean. While having the comfort of your room, you will get visual pleasure. The room setup and design will match your preferences and tastes. You can access the sundeck to find the natural beauty. Besides, the tranquil atmosphere near the lagoon will give you an unforgettable experience.
Max Guests-02 Adults & 02 Children / 03 Adults
Bed Size-01 King Bed
Room Size-98 SQM
Ocean Villa Infinity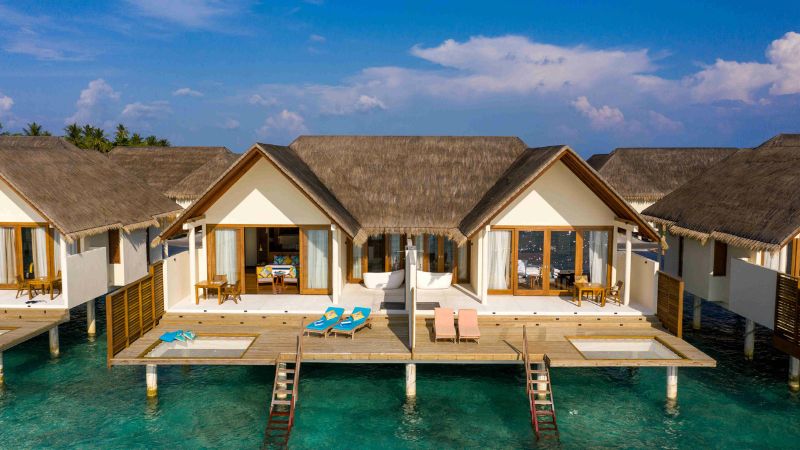 Ocean Villa Infinity ensures a luxurious and private stay. At the same time, you will not miss the view of the blue ocean water. It is truly a charming haven where you can take your bath in the outdoor bathtub. You will be able to soak yourself up in the sun.
Max Guests-02 Adults & 02 Children / 03 Adults
Bed Size-01 King Bed
Room Size-98 SQM
Ocean Pool Villa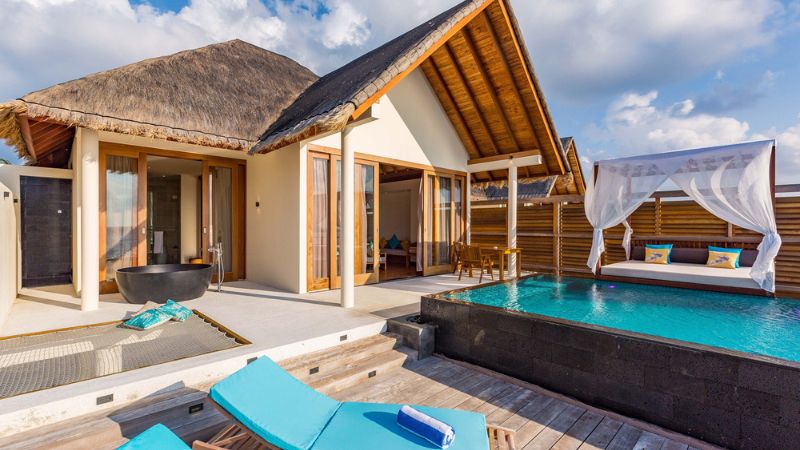 If you love the striking view of the crystal-clear water of the Indian Ocean, book your room in the Ocean Pool Villas. The private pool is the best place to give you the desired bathing experience. Besides, the hammock gives you the rocking sensation. What's more, the open-air bathtub is a place that perfectly combines pleasure and luxury.
Max Guests-03 Adults & 02 Adults / 02 Children
Bed Size-01 King Bed
Room Size-160 SQM
Sunset Ocean Pool Villa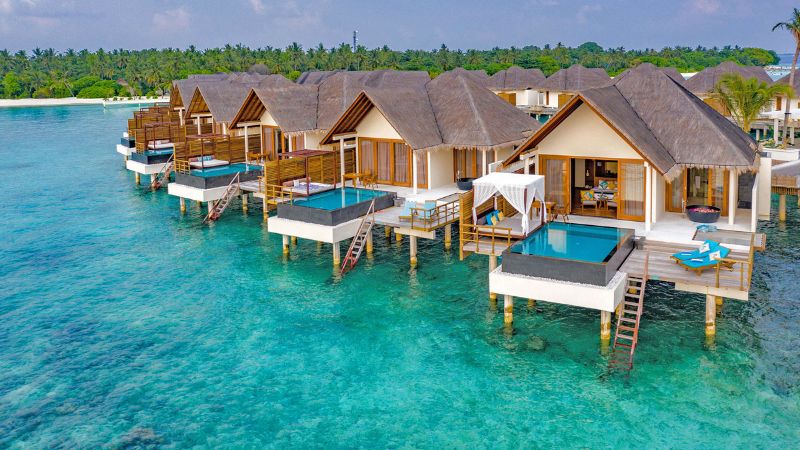 The facilities and amenities available with this villa are almost the same as that of other villas. The heavenly atmosphere will make your vacation memorable. Many travelers love the gorgeous sunset scene, and this villa will fulfill their dreams. The sky with a reddish orange glow will touch your mind and heart. So, book your room in this villa and get a different experience.
Max Guests-03 Adults & 02 Children / 02 Adults
Bed Size-01 King Bed
Room Size-160 SQM
2 Bedroom Beach Residence with Pool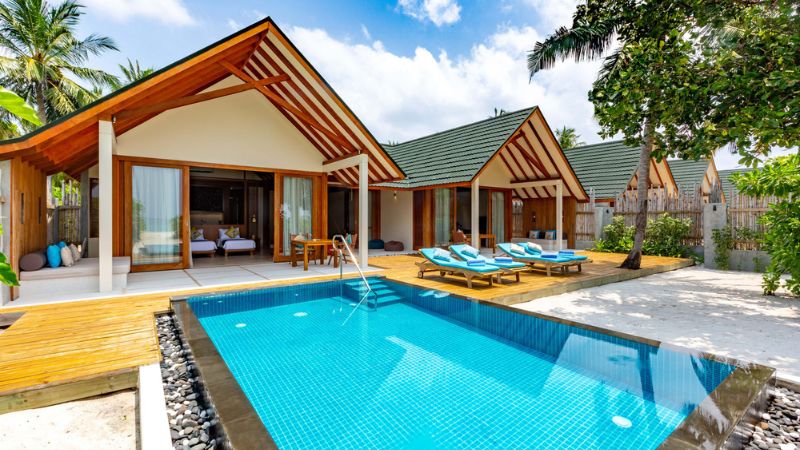 The seashore near Furaveri is really amazing. If you want to escape your mundane daily activities, you can reserve your room in the villa. The availability of 2 bedrooms makes the villa perfect for big families. Your beach holiday will be memorable, and you will cherish your days forever.
Max Guests-04 Adults & 02 Children
Bed Size-02 King Bed
Room Size-325 SQM
2-Bedroom Reef Residence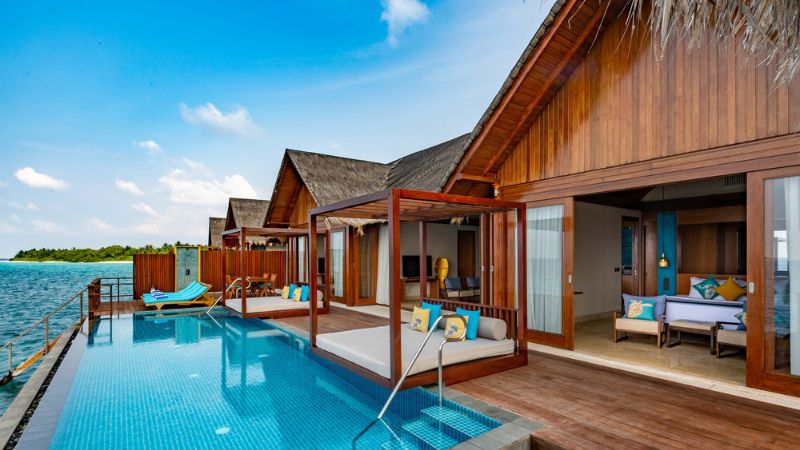 If you love a breathtaking hideaway during your vacation, the overwater villa will give you an amazing feeling. You will get royal treatment in the reef residence. The modern interiors and the adjacent sundeck are the signs of lavishness. The clear water will tempt you to take a bath.
Max Guests-04 Adults & 02 Children
Bed Size-02 King Bed
Room Size-212 SQM
---
DINE AND WINE
Furaveri is a luxurious resort with nearby restaurants and bars to please foodies. So, find the available dining options if you have booked your room at this resort.
Jaafaiy Restaurant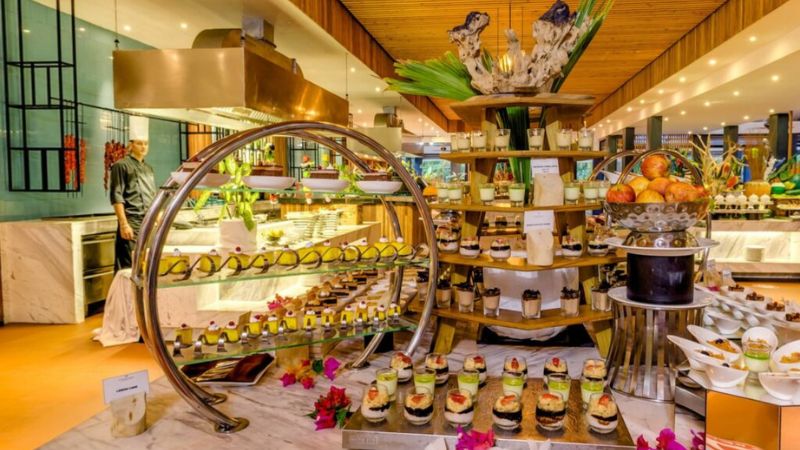 Start your tantalizing journey at Jaafaiy. This buffet restaurant in the Maldives presents you with a themed menu for dinner, breakfast, and lunch. The view of the island and the shore will increase your culinary delight. The menu includes dishes of different flavors that give you the ultimate pleasure.
RESTAURANT INFORMATION
Serving: Breakfast, Lunch & Dinner
Cuisine: Themed nights
Opening Hours:
Breakfast | 07:00 – 10:00
Lunch | 12:30 – 14:30
Dinner | 18:30 – 21:30
Reservation: No Reservations Required
Attire: Island Chic
Raiyvilla Restaurant
Raiyvilla is a prominent restaurant where the Asian culinary will win your heart. The interior setup is vibrant and attractive. While having your meals in the restaurant, you can have a view of a beautiful sunset. This restaurant has made some twists to the dishes to attract customers. You will find food with authentic textures and aromas.
RESTAURANT INFORMATION
Serving: Drinks, Lunch and Dinner
Cuisine: Asian Fusion
Opening Hours:
Drinks | 12:30 – 22:00
Lunch | 12:30 – 14:30
Dinner | 18:30 – 22:00
Attire: Elegant
Amigos @ Farumathi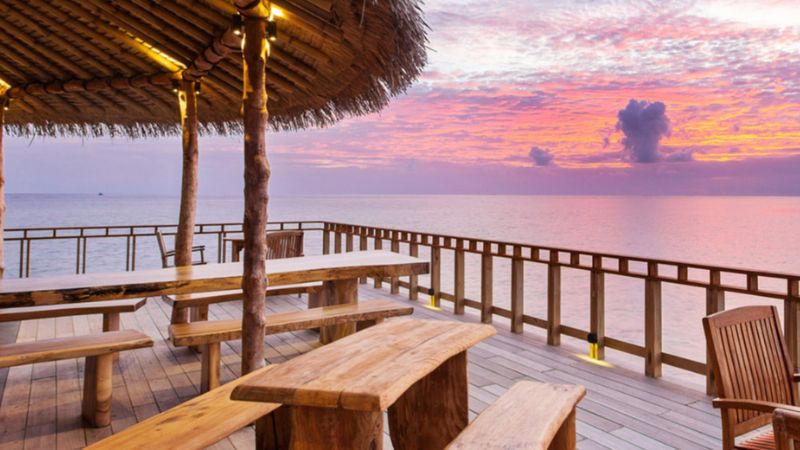 If you love Mexican dishes, you can book your table at Amigos. The nature-inspired design has made this restaurant different from other bistros. The menu also includes high-quality liquor, cocktails, and Mexican dishes.
RESTAURANT INFORMATION
Serving: Drinks and À la carte Dining
Cuisine: Mexican
Opening Hours: 12:00 – 21:00
Reservation: Reservation Required
Attire: Island Chic
Udhares Bar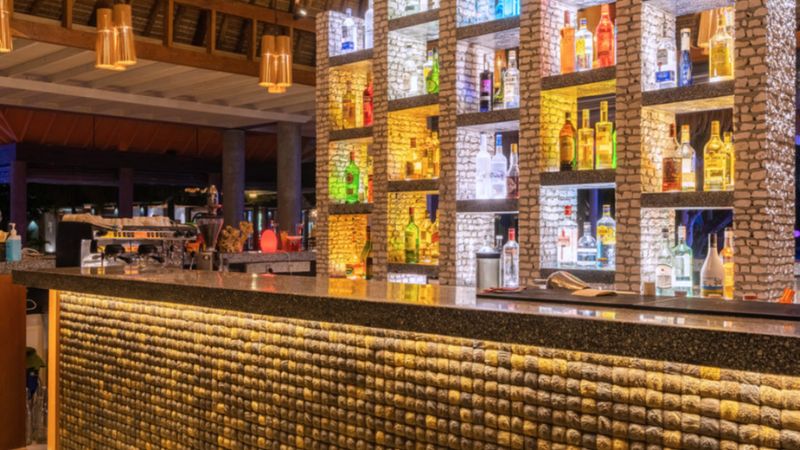 The sunbathing zone and the pool near the bar will make you feel relaxed. The family-friendly bar is quite spacious and gives you the best feeling. The international-level cuisines will trigger your hunger. You can chill out while drinking specialty cocktails. What's more, live shows, live music, and games are the source of entertainment.
RESTAURANT INFORMATION
Serving: Drinks and À la carte Dining
Cuisine: International
Opening Hours: Open 24 Hours
Reservation: No Reservation Required
Attire: Island Chic
---
FACILITIES AND AMENITIES
Furaveri provides you with a range of modern amenities that make your stay memorable.
Fitness Center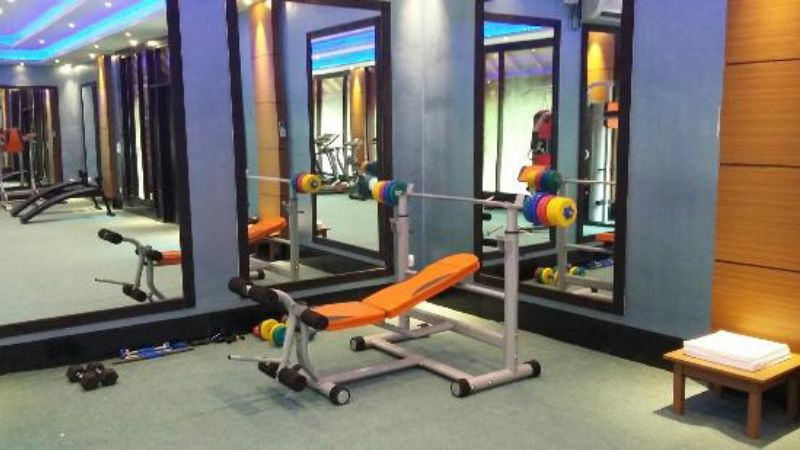 Furaveri aims to help you maintain your health and mind. Attend gym classes to restore your energy and strength.
Yoga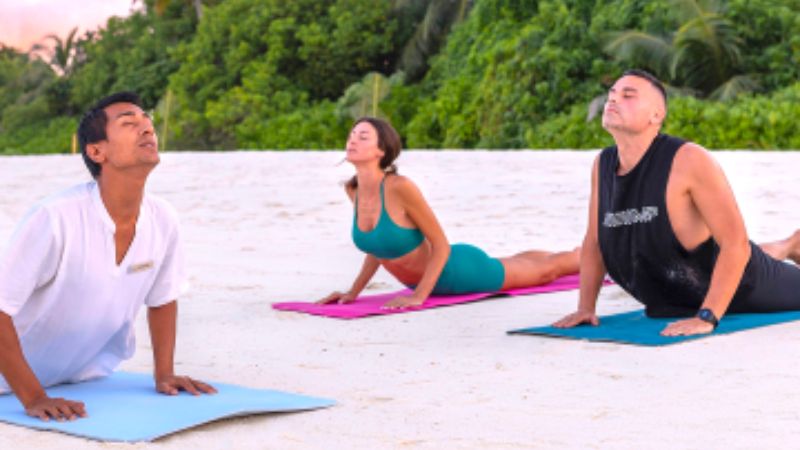 You can practice yoga under the guidance of experts.
Spa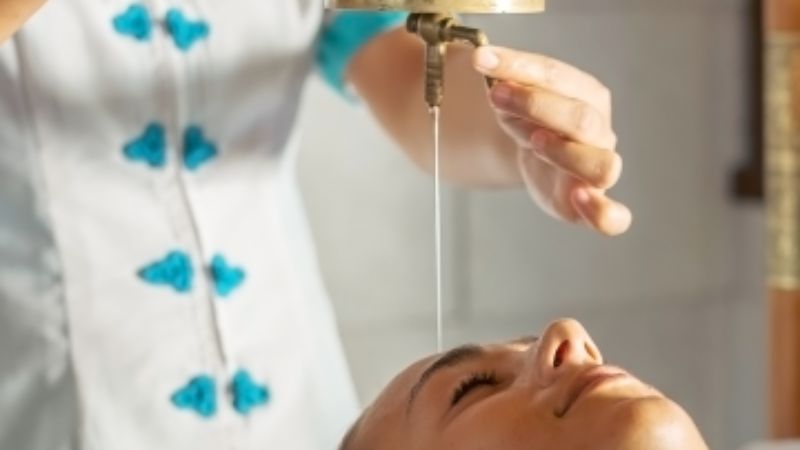 Spa, hydrotherapy, and other treatments are available to pamper yourself.
---
ACTIVITIES
Gather your courage and involve in water sports activities.
Water Sports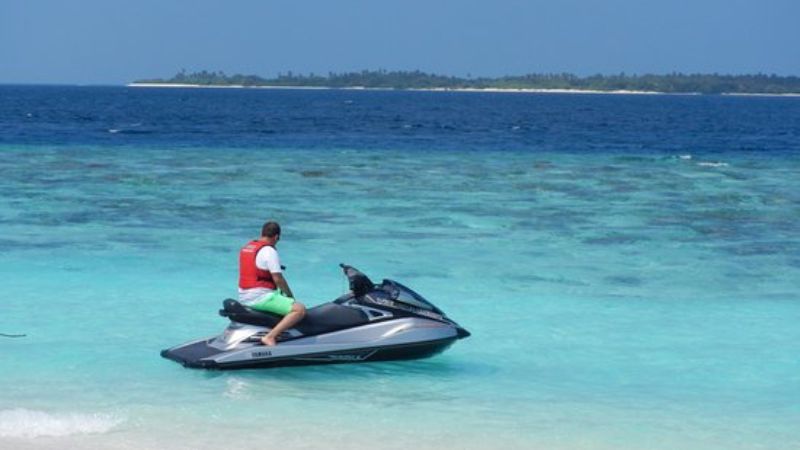 Jet ski- Go to the Manta point and ride a jet ski.
Parasailing- The island country will give you the opportunity to enjoy parasailing. The parachute fitted to a safety harness will rise up slowly into the air.
Sea Bob- The electrically driven underwater sled lets you dive in depth. Gliding on the surface at a very high speed will give you a unique experience.
Fun tube Ride and Banana Ride- Take an oversized inflatable banana boat and zip through the ocean water.
Water Skiing- Enjoy the surface water sport using a boat, which is broader and shorter.
Wake & Knee Boarding- Both wakeboards and kneeboards have sharp edges. Riders on the board will experience speed and acceleration.
Scuba Diving- Use the breathing equipment and feel as if you are a professional scuba diver. Chaaya Reef and Maaya Thila are the best destinations for scuba diving.
Badminton
Grab a birdie and a racket to play the exciting game-
Tennis
The resort presents you with a court to play tennis.
Excursions
Plan some excursions in the Maldivian archipelago and make your holiday memorable.
Chefs Garden
Visit the garden where you can find the growth of nutritious and tasty organic vegetables.
Sandbank
There are several little sandbanks in the Maldives, and you can host a picnic.
Fire Show
Fire breathers and fire jugglers will entertain you with their performances.
So, Furaveri is a good destination for tourists in the Maldives. Whether y